I've made 4 Black Milk orders recently, and since my mail goes to my boyfriend I had 3 of them to collect yesterday! The result is a sea of nommed nylon. Most excellent. I also had 2 pairs of boots there, which I'll show at the end of this post.
Somehow on this occasion only the first order got a £30 charge. The other 2 sailed through, and I'm really hoping the fourth will too once it's sent.
I wanted them to draw Catbug, but I guess they didn't know what it was! I laughed at this for a good 5 minutes.
Onto the haul!
First up is the
A-Sassy-Nation bodysuit
which cost $60 (£33). I'd been waiting impatiently for it to restock! It looks really odd when not worn, but pretty cool when on. It's OSFA and fits fine, although it was difficult to wriggle into and makes my shoulders look super broad! But oh well, it will go will lots of skirts!
Next is a longterm dream piece of mine, the
Galaxy Purple Leggings
. These are I guess the iconic Black Milk piece, and what got me interested in the brand in the first place. I only took so long to buy them as paying $75 (£41) for leggings seemed insane at first, but I caved eventually. I'm just assuming they will fit as I managed to wriggle into my Merbarbies, although I probably could wear an M instead of S.
Mucha Black Leggings
became a dream piece of mine only recently, and when I saw that they were still available on the site I just had to add them to my order! They were $75 (£41) too. I'm a little worried about coordinating them, but the print was too gorgeous to resist.
This was the first piece of my second order, a
Velvet Cap Sleeve Crop
. I'd been waiting for this to restock too, but irritatingly it runs really small with no warning. I got an S and it flattens my boobs and I had to be yanked out of it by Rob! So disappointed as I really need a black crop like this and I couldn't find any small enough in H&M =[ going to try to size swap! It was $45 (£25).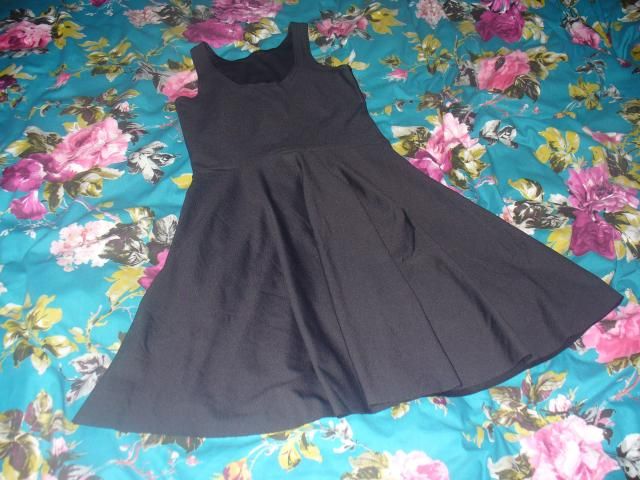 This was the other piece I was waiting for a restock of, the
Matte Reverible Skater Dress
. I figured it will go with anything, and I lack plain black dresses. It was $60 (£33), and the material seems a little thicker and heavier than usual. It is visibly creased from shipping, but it doesn't bother me.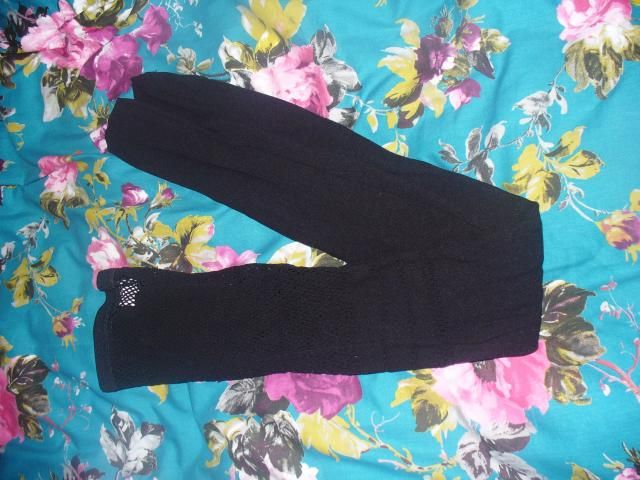 I also thought I'd try the
Sporty Stripe Hosiery
that I'd been eyeing since its release. I've seen a lot of sharkies using them and I've always liked this type of tights, so I braved the price of (£16) and I don't regret it. I can see myself using these a lot, and they're a good match with A-Sassy-Nation too! Although I think they would look great with a shooter...but I don't own one...(yet!)
Lastly for this order I thought I'd grab the
Littlefinger HWMF Leggings
. I liked Littlefinger straight away in Game Of Thrones and he has only grown on me, so why not have leggings covered in cool quotes? The colour palette will be easy to match with everything too, hopefully! They were $85 (£46).
Lastly, my first Witch Please order! As you can see, I got the limited lookbook that was given out to only the first 1,000 to order. I was order 810 and that was only 2 minutes into the release!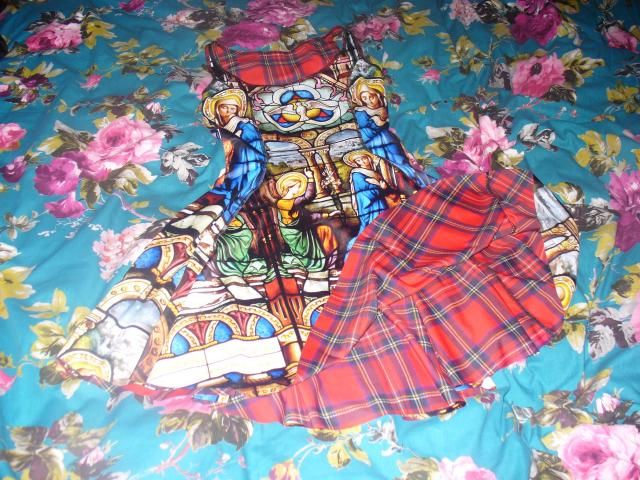 And what a beauty the
Tartan Red Vs. Cathedral Inside Out Dress
is! At $170 (£93) it was an expensive buy, but I love tartan and I have always loved the cathedral print too, so a dress I can wear 2 ways seems like a pretty sound investment. I was a little worried about disliking the cut as it looks awkward and short on a lot of people, but it looks great on me! Black Milk really could have been made for me! I'm not sure what to do with the label on this though, as obviously it shows when worn inside out. I'll definitely consider other IOD releases in future, as their limited nature (there were only 1,000 of these made) ensures resale value anyway.
I have another Witch Please order on the way, but I think the items were made to order so it might take a while! For now, my boots.
I finally got my hands on some
Jeffrey Campbell Damsels
! I bought some before on Ebay but the payment wouldn't go through as the seller was a moron, and the seller decided to sell them to someone else even though my money was still in Paypal limbo without telling me. But yes, I got some eventually, though these were a tad more expensive. They also do not fit. At all. I bought a UK5 as when I tried on Litas a while back they were too tight in my usual size, but these seem to run big. They're huge! So I can't wear them, and they look really unflattering on my short legs anyway =[ gutting! They cost around £35 so I'm hoping I can make my money back, although I'm going to try to size swap them along with my Coltranes before selling. It's such a shame as they're quite clearly brand new and still in their original box and packaging.
I also impulse bought these
Buffalo boots
! I've been wanting the iconic platforms for a while, but their current popularity means that they keep evading me. I managed to snag these for £28 though, and luckily they seem to fit okay (surprising as the seller said they were labelled as 3/4 but fit her at a small 6, and I'm a 4 haha). I love being a normal height for once! And while they aren't the ones I really wanted, they fit my style really well. They're quite muddy, but to be honest I think they look better that way and won't be cleaning them too thoroughly xP
That's it for now! I hope my last package arrives soon, and I hope the next collection doesn't make me as poor as this one did (although I fear BM is the new AP, and it is therefore inevitable). I plan to make a video of my whole Black Milk collection once my dad has returned from Monaco with the camcorder, so look forward to it!