Going to focus on dream items that I don't currently own =] In no particular order.
Day 5 – 10 items from your wishlist.
1.
Angelic Pretty's Sugary Carnival! I have the skirt in black and JSK in pink, but I'd love the JSK in black and sax too! Total dream print.
2.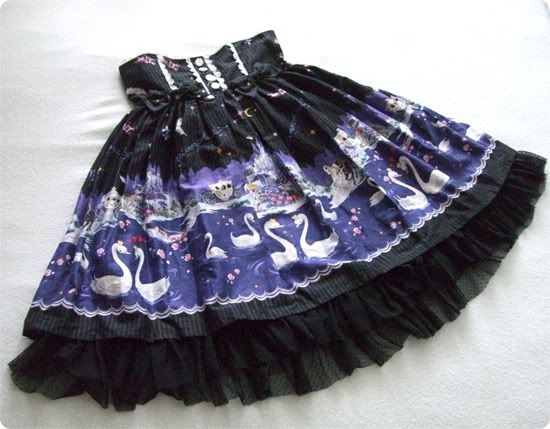 Metamrphose's Swan Lake high-waist skirt in black. This is the print that won me over. If I had never seen it I probably wouldn't have even started wearing lolita and I wouldn't have been as interested in it.
3.
Angelic Pretty's Holy Night Story switching JSK in green. It is pretty hard to get hold of so I had to settle for Offwhite which is still gorgeous, but I love this colour so much.
4.
Innocent World's Antique Book Bag. It wouldn't go with anything I own, but I adore it so.
5.
Vivienne Westwood Rocking Horse Shoes! Not sure which colour...either white or black. Probably black actually as I have white Montreal ones.
6.
Angelic Pretty's Milky Planet in sax (although I love it in yellow too). Because when it came out it was like the new Sugary Carnival haha.
7.
Angelic Pretty's Wonder Party in black. It's sweet, but more mature than most of the stuff I like!
8.
Baby, The Stars Shine Bright's L'Oiseau Bleu in mint. Because the colours are gorgeous.
9.
Alice And The Pirate's Kuro Neko No Dance JSK in bordeaux. I loved it the moment I saw it but can't fnd it anywhere! I love ths colour, I think it'd suit me too. The halter style is darling.
10.
Baby, The Stars Shine Bright's Royal Velveteen Antique JSK in royal green, because it's one of my favourite colours on one of my favourite fabrics and looks so elegant!