Today I had to go out to buy groceries anyway and the weather was actually okay (between bursts of rain), so I thought I'd wander around town to make up for staying in for days. I'd gone with the intention of buying a pony or Monster High doll, but there weren't any in either of the shops that sell them TAT
Instead, I thought I'd try on lots of clothes! Which was a pretty silly idea because I'm on a shopping ban and I've actually been keeping to it this time. But it's fun to try on things that you normally wouldn't consider.
I tried on a few things from the kid's section in H&M.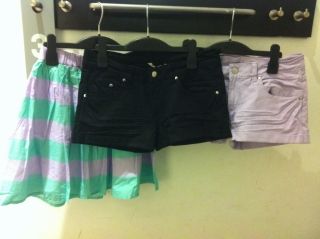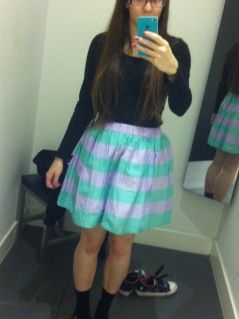 This skirt was so cute and only £6, but it looks lumpy and odd on. I think I might buy it if I get to go on holiday this summer though! I haven't added worn photos of the shorts as they gave bad muffin tops, which is annoying as I really need some black ones. They are the same as my pink ones so I *could* stretch them out, but they'd still be too muffin-y and I have lots of cropped and tight-fitting tops for Summer, so not ideal. I think I'll try the adult black shorts next time, as although the material was rough and not nice they were only £8 and they should fit better.
The other store I went into (twice, actually) was New Look.
They're my favourite by far at the moment with all their adorable pastels and stripes!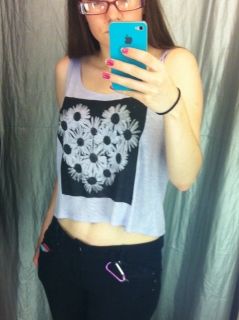 I love this top from the children's section, so Summery and a cute colour! I felt like my belly was too podgy for it though.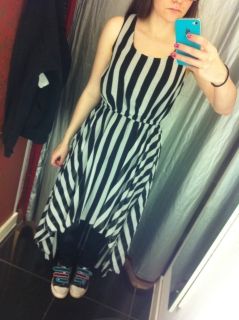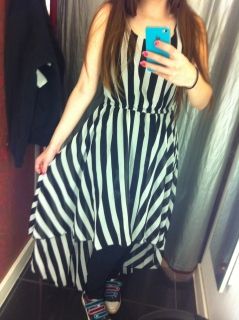 This dress is amaaaaazing! The lady in the changing rooms pounced on it when I was handing it to her, she wanted to know why I wasn't buying it xP I do love it, but it's £28 and I'm not sure it looks right on me due to my height. But if it's ever in the sale I'll have to snap it up. It looks more odd in the photos than in real life because of the camera angle.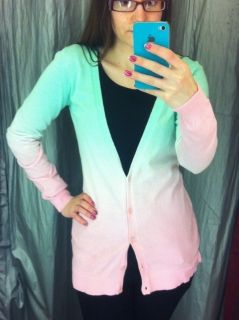 Pastel dip-dye *drools* This cardigan reminds me of watermelons! At £22 it was too expensive though as the material was thin and not very soft. But another to wait for in the sale, definitely.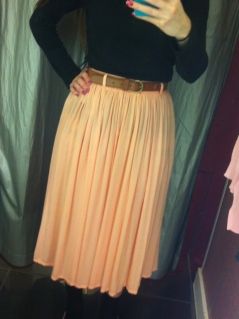 I never thought I'd be able to get away with wearing a skirt like this as it's quite long, but I was pleasantly surprised! The only thing stopping me from buying it is the fact that it isn't lined, which makes it quite see-through due to the floaty and light material. So I'd have to buy a slip on top of the £22 for the skirt. But once again, if it's in the sale...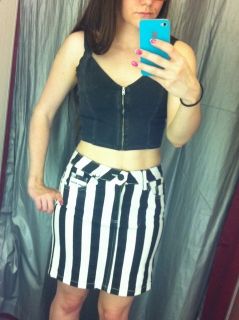 Last two items I tried together! The skirt fits terribly as it's too small on my hips and too long, but I think I prefer the striped shorts anyway (which I would have bought before but shopping ban and I own so many pairs of shorts). The top though...it's not my usual thing at all as it barely covers anything, but I thought it looked cool. It was also cheap enough for me to allow myself to buy it (£13). I'm not 100% sure about keeping it as I don't know what I could wear it with and I know I'll get honked at and abuse shouted at me when wearing it, but ♥
So my window shopping was a bit of a fail, but it could have been worse! I spent almost as much in Sainsbury's on boring things like margarine and toilet roll afterwards haha.