Yesterday (13th April), I finally got my birthday present!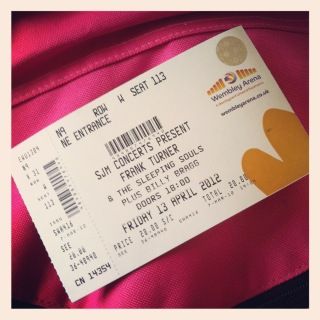 A ticket to see Frank Turner, woooooh! My fourth time seeing him, ahahaha.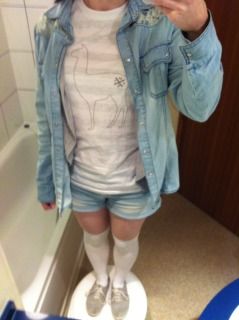 My outfit, complete with 'invisible llama' shirt, based on the commonly misheard lyric in 'Reasons Not To Be An Idiot'.
We didn't start travelling to London until around 2pm as Rob had a really long interview in the morning. It was his first time driving on the motorway, but we were fine. However it took us 4 hours to get to the hotel, so we didn't get to the arena until around 45 minutes after the doors opened. As such, we didn't have time to look around for the merch stall before the acts started =[ (I had intended on going to look afterwards, but it was too crowded and I ended up missing out completely! Sucks.). The hotel was really nice though - we stayed in a Premier Inn that was really close to the venue. The bed was almost as big as my room here, it was crazy. I could lie across it the wrong way and still not be dangling off at all! It only took us 5 minutes to walk to the arena.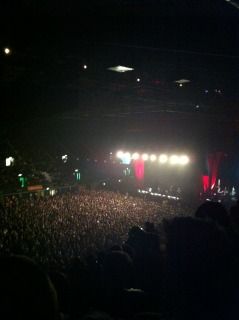 View from our seats. We were in the top row about half way down the arena. Thank goodness my camera has a decent zoom!
Beans On Toast was on first, and although the set was only 20 minutes long and reaaaaaally disorganised, it was good! He did a stage dive at the end and got carried across the whole crowd...and a few people kept him up and ran across the rest of the floor with him!
Next on were Dan Le Sac and Scroobius Pip. No photo as they were awful. I hate that kind of music, I sat there like 'wtf is this crap' the whole time they were on, but I didn't want to squeeze past the smelly fat man who was sat next to me so I couldn't go for a merch hunt.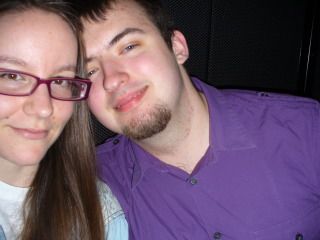 Gave us time to take a derpy photo though!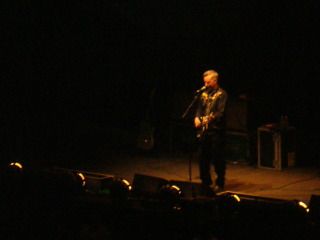 Billy Bragg was next, and he was brill! I'll have to check out his stuff again later.
...and then Frank Turner and the Sleeping Souls <3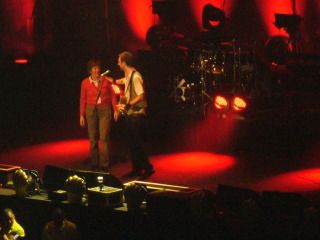 Frank's mum came on stage to play harmonica during Dan's Song =D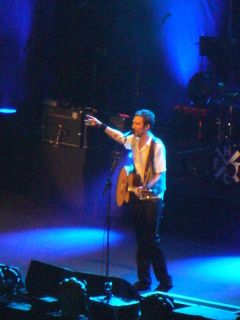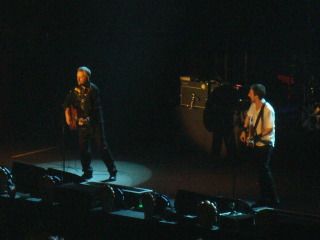 Billy Bragg came back on stage to do 'The Times They Are A-Changing'.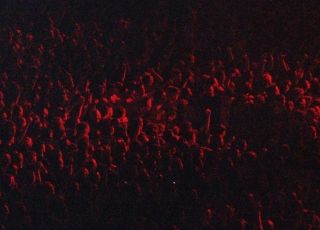 Circle hug that opened up at one point! It became a circle pit shortly afterwards though.
The set was reaaaaally good. I had a few annoyances though. The woman next to me was singing really loudly, out of tune and time. I think she was really drunk. There was a bunch of guys in front of me whose heads blocked my view anyway despite my being higher up. But they had their hands in the air most of the time so I had to keep moving about to try to see! People clapped inappropriately in my favourite song. The end part of The Road was cut off. (Is there a grumpy concert-goer meme yet? Bahaha).
But the performance was amazing as usual, and the new song was EPIC and I can't wait until the next album is ready! I had been thinking I wouldn't see Frank again for a few years, but when he said that there is to be a tour next year and that he'll be doing practically every town in the country I was like 'BATH AND BRISTOL COME TO MEEEEEEEEEE' xP I already cannot wait!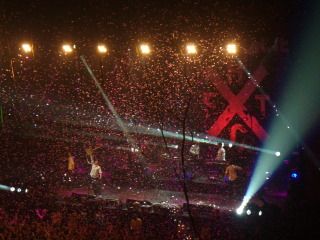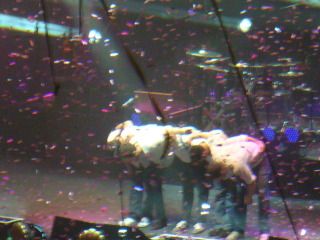 I wish I could have gone to the bar afterwards for a few drinks, but instead we went straight to sleep in order to rest up for today! It didn't take so long to get home, but it still took 3 hours. Luckily all the travelling was fine as we had plenty of CDs with us, and I like travelling anyway! No gigs planned until Reading now, and that's still not definite.
But yes, probably the best birthday present ever!