As it happens, we had a picnic yesterday at the zoo! So while the following may not be the best for this week's
Lolita Blog Carnival
theme, they were what actually happened ;P I won't be listing a full menu as we all bring a little bit each, so I will share what I made for the occasion!
This is the coord I wore! I was torn between two coords, but I plumped for this one in the end as Sophie was wearing a chocolate print too. The weather was really hot and sunny, so I tried to keep as cool as possible.
For my savoury I cooked up some odd little snacks! I don't actually know what they are, but they tasted good enough.
For sweets, I decided to try out ice cream cone cupcakes! The icing was far too sickly, but I'd definitly try making them again.
What things do you like to wear to/eat at picnics?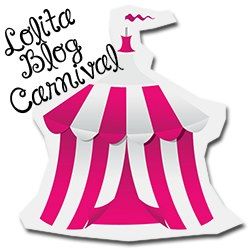 A Heart's Sound ♥ Bits & Pieces of a Lolita ♥ Classic Doll ♥ Electric Carousel ♥ Pink Lace & Glitter ♥ Sweet Indeed