I fell in love with this series as soon as I saw it, so I knew I had to own it!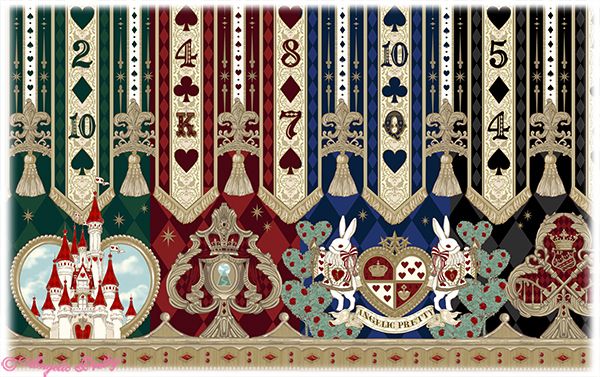 I was actually drawn towards the bustier version as I loved the trim on the skirt, but the release was messed up and they were released late and in very small quantities!
I missed the first release of the military JSKs on the 28th of December, but managed to catch a restock that morning by chance. I had wanted navy, but I only saw green so I just grabbed it! I couldn't decide between headbow and bonnet and didn't really have time to think, so I just grabbed both. This was before the special set was announced, as I'm not sure I'd have bought both on purpose (although I probably would have haha).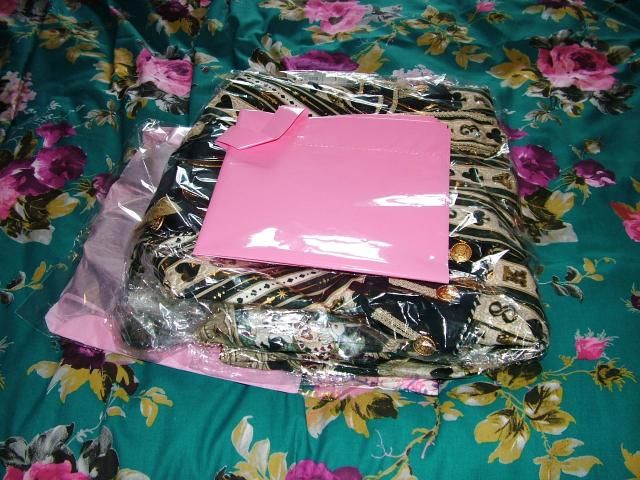 I received my order on the 16th of January.
The items! The JSK cost ¥27,090 (roughly £160), the headbow was ¥3,360 (around £20), and the bonnet was ¥8,295 (just under £50). Shipping was ¥3,989 (£23), and customs was £63.20, which stung but could have been worse.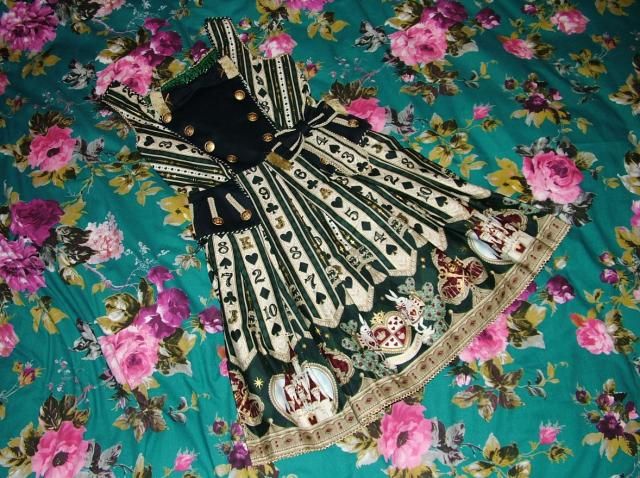 The military JSK. I wasn't too sure about this design due to the panels on the sides, but it has definitely grown on me. I was kinda annoyed to see that the plain fabrics are in fact navy though (but darker than for the navy colourway), as this will make the piece more difficult to coord. This means it's probably a good thing I got this version though, as it would look odd with the top fully navy and bottom fully green. You can't tell this from the photos on the site and nowhere is this mentioned, so I was a bit bummed out until it sunk in!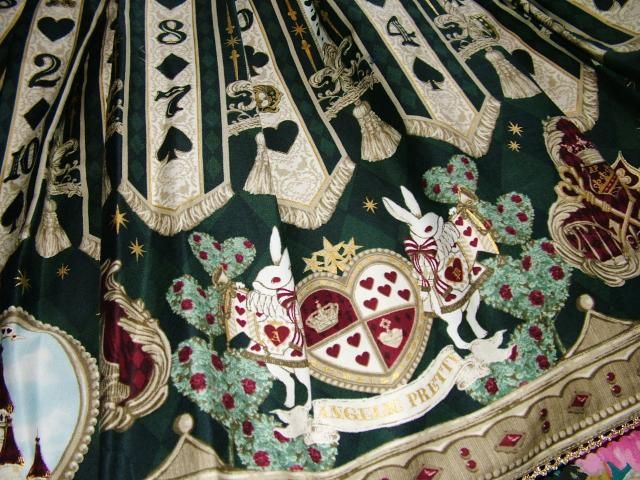 The print is so gorgeous with the gold in it, and I hope I can bring out the red! I'm a little sad that the base colour isn't a bit lighter and more 'green' though as it looks black in some lights.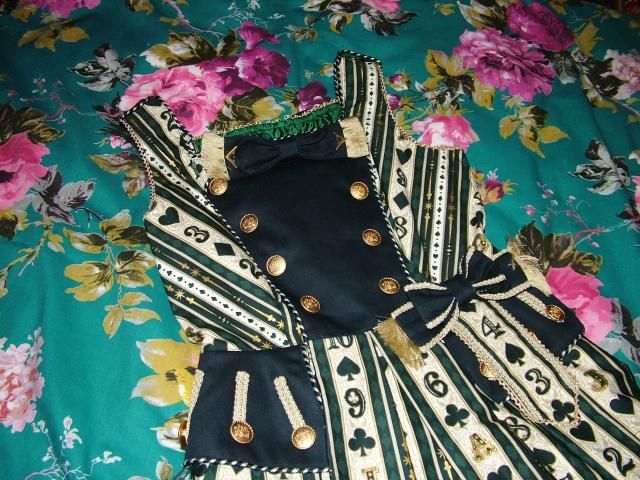 Trying to show the colour difference. I love the military details, especially on the shoulders as I missed them in the stock photos. I have a feeling my hair will catch on the buttons though! The bows are detachable, and there is one pocket underneath the right panel.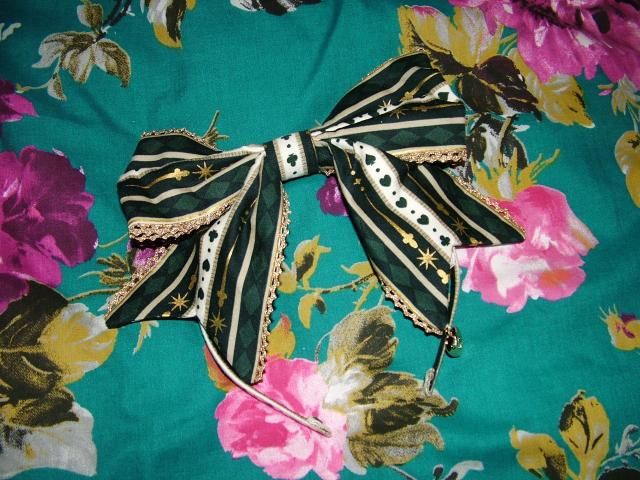 The headbow is pretty small for Angelic Pretty, and a bit of an odd shape. However it has wires in it, so it should be fixable! There is a little gold heart charm.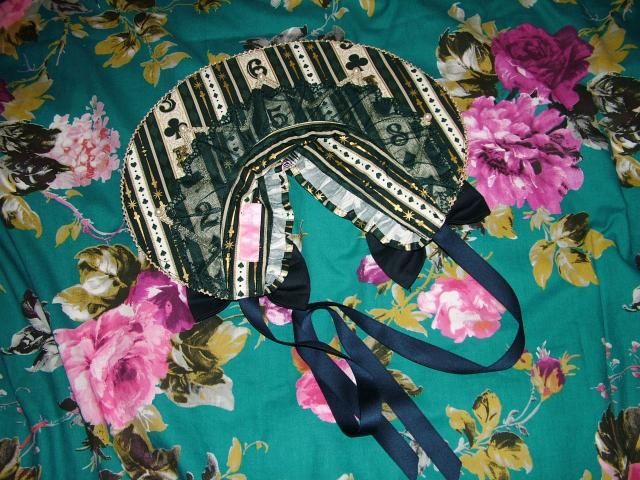 The bonnet. I kinda regret buying this now as it's ridiculously huge and I don't have any flowers or anything to wear in the front to make it look less silly. I'll try my best with it though! The gold cord, lace, and subtle pearls are all nice touches.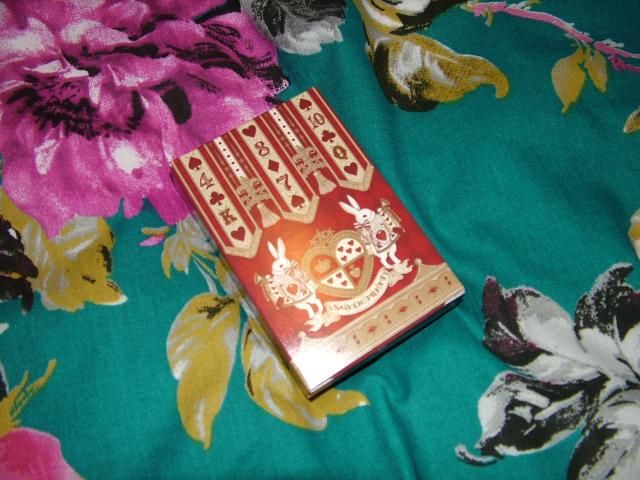 And lastly, the novelty pack of playing cards! I'm a little tempted to use them to make a headpiece, but I don't think I can bring myself to. Overall I really love this series and the pieces I bought as they have so many rich colours and details, and should be slightly more wearable than most of my (super-sweet) wardrobe. I'd still like to get my hands on the salopette, unless I'm able to find Toy March!