This week's
Lolita Blog Carnival
task is to predict the trends for this year! I'm never good at these things, but it's still fun to give it a go!


OTT gothic. I'm not too hopeful for this, but what with the mini surge in OTT classic, I'd love to see some proper OTT gothic! With crows on headpieces and feathery wings on backs; longs talons on nails.





Bonnets. I'd like to say 'maxipad' headdresses, but I know that won't happen. I'd love to see more bonnets, and plan to buy and wear more.





Old school. I think I said this last time I was supposed to be predicting trends, but I know there's still people out there wearing it. MOAR!





Heels! They're already pretty popular, but I think elegant heels will be a big thing. Fewer tea parties and clunky heels.
What trends do you predict?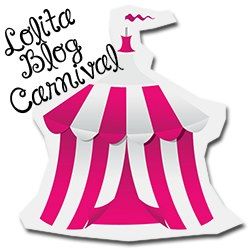 Atropa Belladonna ♥ Beyond Kawaii ♥ Breidholt ♥ Crimson Reflections ♥ Gosu-Rori ♥ Lace Teapot ♥ Sweet Indeed ♥ The Bloody Tea Party ♥ Toothless Tigers