I shotgunned an SS a few weeks back before the announcement as I knew I'd probably want something, but it was unsuccessful for the online release. I was also caught off guard as there was no announcement concerning International online release, so I missed it as I was asleep!

Anyway, introducing
Candy Sprinkle
! My other half laughed his buns off at the name haha.
When I first saw the photos I wasn't sure about the print, but the print detail is actually adorable!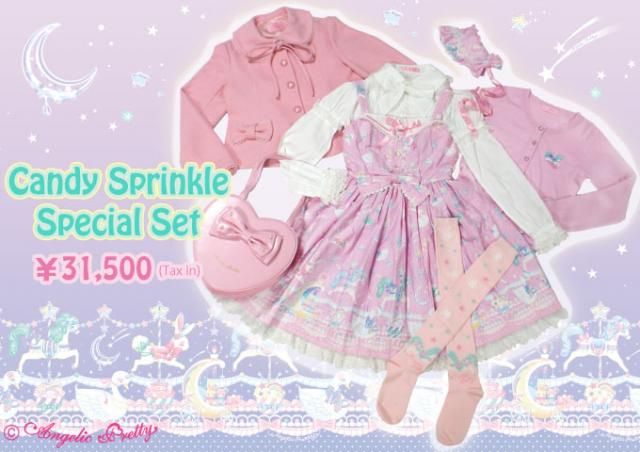 I wish I could afford the big set. Lucky that it's sold out really as I'd probably have bought it anyway! I love the bonnet, and the coat is so cute in black (I really need a little lolita coat maaan).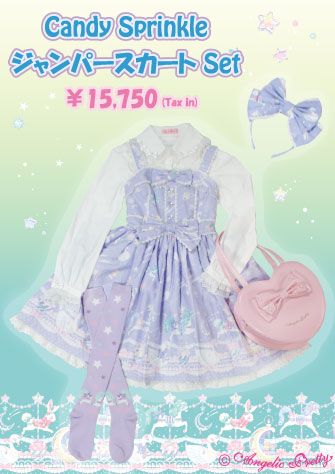 I'm not as fond of the JSK set, but I think the print looks really nice on this lavender. It reminds me of something BTSSB have put out though, in a way. I think it's the cooler pastel tones that does it.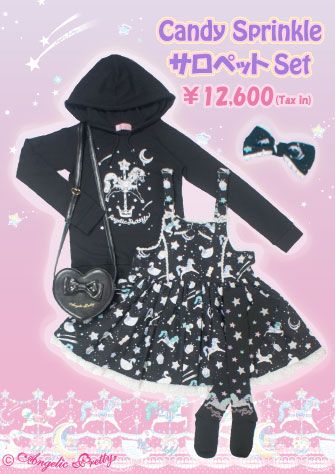 Oh black salopette, how I want you! This will be my fourth year trying for a black salopette set. I ended up with pink every other year, but not this year!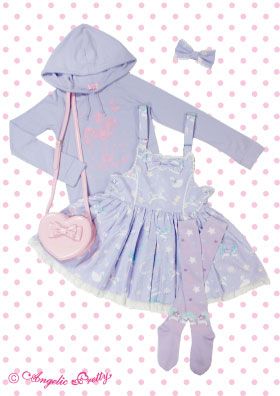 I bought the lavender as I didn't want to risk being left empty handed. Honestly I think the pink set is cuter, but another pink salopette is the last thing I need! I have a feeling I will end up selling the salopette itself and just keeping the hoodie. The pink and lavender sets are still in stock!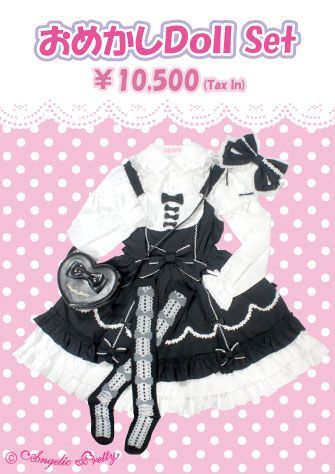 Omekashi Doll set, available in black and pink. I really hope I can get this in black as I've been needing to get a plain black JSK again as selling my old one was a mistake.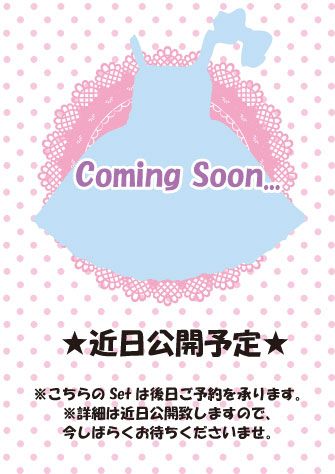 This is also on the Japanese site...a mystery set! I wonder if it will be instore only? I can only translate "This set is" and that's it haha. I'm guessing it's a special set of some print since they did a Toy March one last year (that I couldn't get my mitts on...booooo). Maybe Misty Sky or something judging by the shape? Hoping it's not something I'm likely to want. I'm having major self control issues at the moment. Sadness makes me buy A LOT.
Well, that's my little round-up of the lucky packs. I hope I can get the things I want! And I hope everyone else is happy too.