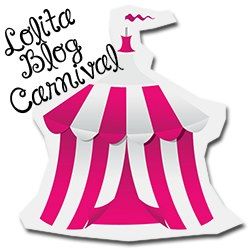 This week's
Lolita Blog Carnival
post concerns new year resolutions within lolita fashion. I will post my non-lolita ones on new year's day.
Wear lolita more often! I have barely worn it this year due to being too busy when still at uni, my mother being horrible about my clothes when I moved home, and we now have a kitten who attacks everything. I have to hope Coco grows out of destroying my clothing for this to work!


Organise a meet. I have been into lolita for 4 years now, and yet have never organised a meet! I had wanted to do an ice-skating one, but then the local rink closed down. So I guess I'll have to get thinking! This is kinda more important now that I work on weekends as I won't be able to attend meets at all if I don't organise them!


Get rid of 10 pieces of clothing. This will be difficult as I love every piece I own. But if I haven't worn it and never will, there isn't much point in keeping it. Hoping I can do this without breaking down! I bet I'll just get rid of Bodyline...


Buy more practical items that I actually need. All my blouses are old and disgusting, I just hate to spend so much money on a blouse. But I am in desperate need of a new black one, and perhaps some coloured ones too (especially pink!).


Get a loliable hat. I always love coords with berets and the like, so I probably ought to try it.


Buy chunky black heels! I love my red ones from Bodyline but they don't go with much.


Try to stop buying new Angelic Pretty releases! I waste so much money on new releases...


Buy some plainer pieces for simpler coords. Top of the list for this is a plain black JSK!


Keep in contact with lolita friends more. I'm not big on online chatting, but I need to get on it!


Make more lolita friends!
Do you have any lolita resolutions? Links:

Asian Wannabe Girl ♥ Beyond Kawaii ♥ Breidholt ♥ Hello Batty ♥ Her Lumpiness ♥ Lace Teapot ♥ Lolita Glamour ♥ New Vogue Children ♥ Northern Star ♥ Papillon de Nuit ♥ Ramble Rori ♥ The Cute Lifestyle ♥ Wearable Magic