I think I skipped out on this during the Lolita 30 Day Challenge, so I figured I'd do one now! Tenses likely to be inconsistent.
9.30am ~ Rudely woken up by the boiler turning on due to my housemate having a shower! I look terrible in the morning...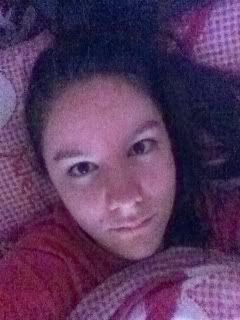 9.45am ~ Give up on sleeping and start Instagramming random old photos...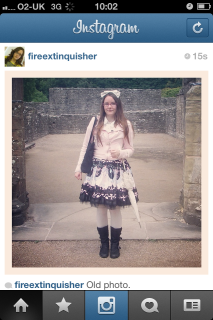 9.50am ~ Take care of my Megu! I still want a proper Tamagotchi, but this will do for now.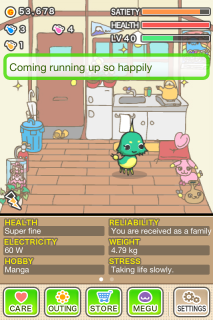 10.00am ~ Get up! Make breakfast and a cup of tea to have while watching an episode of Creamy Mami. Chocolate digestives on standby.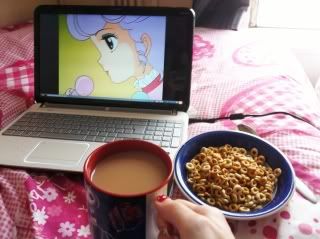 10.30am ~ Tempted by Sailor Moon necklaces on Etsy. I prefer the Chibi Moon one, but not paying £10 more just because it has a Swarovski crystal (that looks like plastic anyway) in it. Decide to consider it.
10.45am ~
Tumblr
! I'm probably about a month behind now TAT
11.10am ~ The sun came out, yay! Time for another cuppa (using the milk from my cereal...yum, cheerio-y!) before getting dressed. Trying to decide if a run is a good idea, or maybe just have another long walk like yesterday.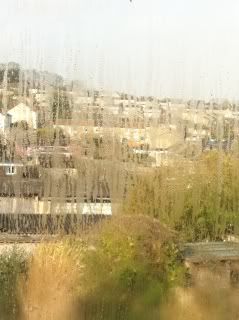 11.45am ~ Decided to run as the sun went back in, and you guys are reading this thinking I'm some awesome super-fit person now (lol I've never been for a run before in my life except when they made us do it at school and I was the worst person in the entire year which confused the teachers because I 'look fit', ie I'm not fat. Yes, they actually said that).
12.10pm ~ Ready to go! These trainers make my feet look really big xP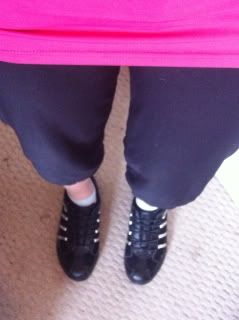 12.11pm ~ Oh bugger, it started raining! Typical =[ can't run in rain as I won't be able to see through my glasses. Pretty torrential now. Have to wait for it to stop *pleeeease stop!*.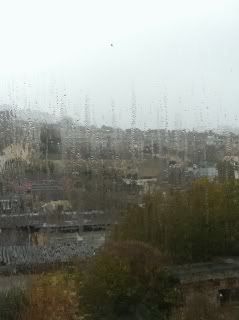 12.35pm ~ Rain stopped, now feeling sleepy and hungry...but nap and food can wait! Let's try that again.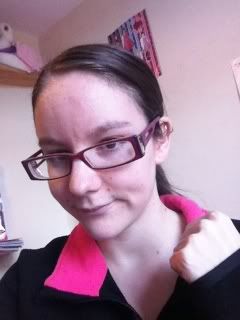 13.00pm ~ Shortest run ever, but managed to give me a stitch and a headache! Recovered pretty quickly luckily. Bit muddy now from where I kick myself when I run, but my towel is still drenched from washing machine disaster yesterday so I can't have a full shower =[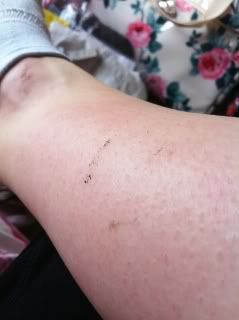 1.10pm ~ Open window to cool down - very windy out, so balloon getting a bit of a battering!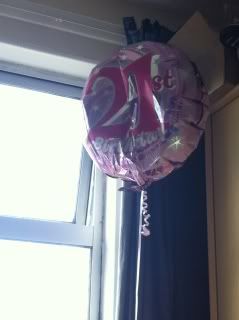 1.35pm ~ Lunch! With a glass of Pepsi Max and another episode of Creamy Mami.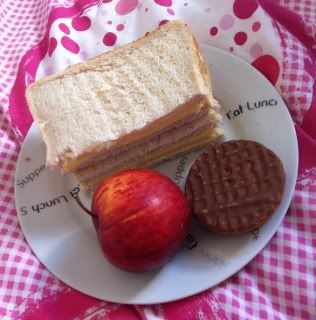 2.40pm ~ Getting frustrated with house search as there is literally nowhere suitable for me to live next year.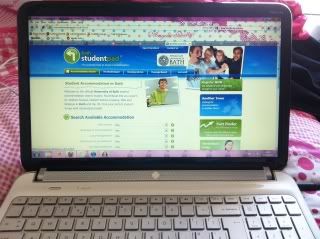 2.45pm ~ Sending out adverts to recruit for my study!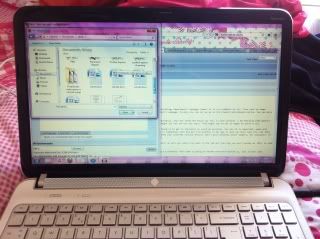 3.20pm ~ Time to dress my Poupée! Upload an item too.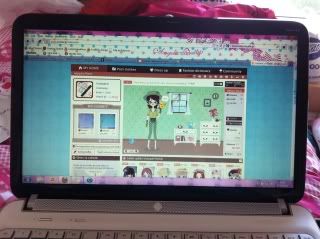 4.00pm ~ Finally time to get dressed! (My wardrobe is such a mess!). These leggings are so weird fitting, not tight enough on the legs. Should have bought a smaller size.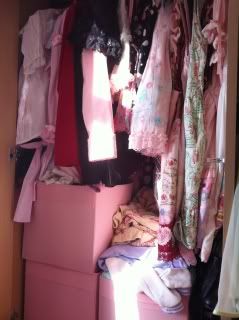 4.35pm ~ Time for a quick walk before tea. Need to post a package and maybe buy some snacks.
5.44pm ~ Walk longer than I thought! Not sure whether to eat the egg I bought or save it for Rob for Easter...bought it to cheer myself up as I wanted yoghurts but the ones I wanted were expensive unless you bought a ton of them and my housemates would moan *sigh*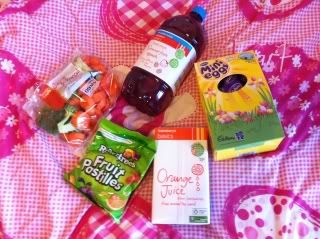 5.55pm ~ Tea time! Feel guilty for eating it as apparently this rice has fish extract in it Dx but no time to cook anything else. Annoyed as someone has been stealing my milk again...a TON of it. And of course, I watched yet another Creamy Mami episode xP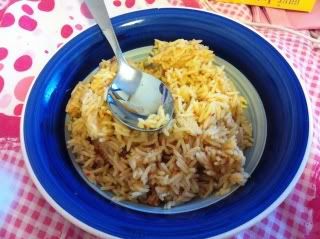 6.35pm ~ Time to catch the bus!
6.40pm ~ On le bus...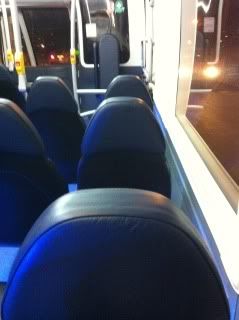 ...listening to le music.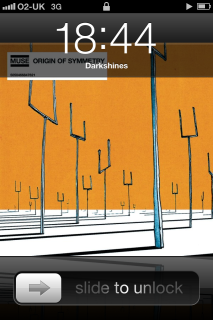 7.20pm ~ Find a note on the back of a toilet door...which makes no sense. YOU SHOULD LIVE BECAUSE YOU ARE ALIVE. lolno. Cute idea though.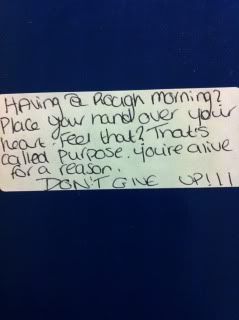 And make use of the mirrored walls!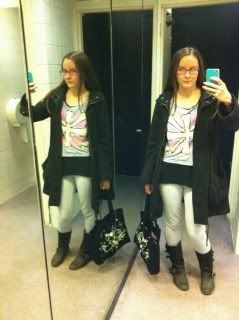 7.30pm ~ Watch '9' with the sci fi society. It's quite a good movie.
8.20pm ~ Sniped on the most gorgeous vintage piece =[ must learn to sew - I want this so badly!!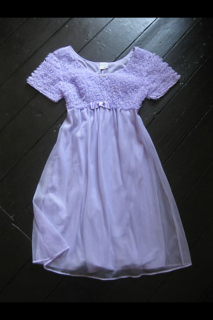 8.45pm ~ Wait for the bus. Find a CD in the student centre.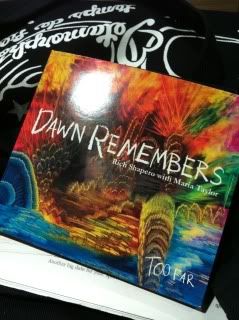 9.10pm ~ Music time!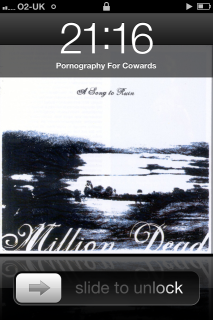 9.35pm ~ Back home! Bunny slippers on, cup of tea made.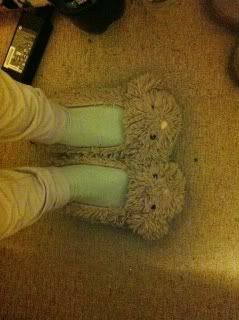 9.50pm ~ Change into pajamas once my room has warmed up a bit. Stick on the new episode of New Girl to watch while tidying my room which has become a mess!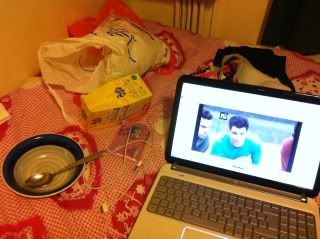 10.30pm ~ Making a
lookbook
post.
10.45pm ~ Room tidy, teeth brushed, ready to go to bed. New Girl episode waiting to be watched tomorrow as I paused it to load and ended up listening to Million Dead instead...
11.00pm ~ Sleepy-time!
Hope my day wasn't too boring for you xP