At first I had no intention of buying the blind bag ponies as my pony collection is already insane and I can't really afford them. But an eBay seller sent me some by accident and sold on the items that were supposed to me mine, so I ended up with 6 blind bags.
I also already had my glow-in-the-dark Pinkie Pie that I bought at Hyper Japan!
But yesterday I was out shopping, and I came across some in Snooks. I was really surprised as their pony section keeps shrinking! I didn't notice them at first - I grabbed the tube I'd gone in for and was looking for Monster High dolls (which they no longer sell), and I saw some non-pony blind bags. So I hunted around the shelf a little...and there they were!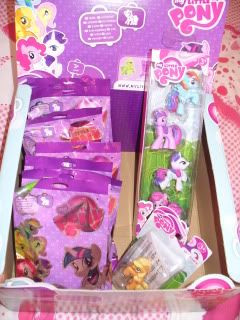 I bought what was left of the box (5 packs, but I stuck my other 4 and AJ in there to keep them together). So I managed to spend £17 on ponies in there in total Dx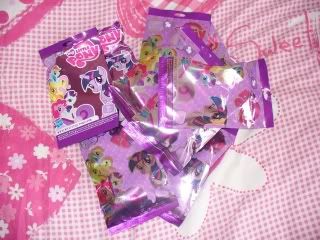 I just went to collect the last 2 from the post depot, so opening times!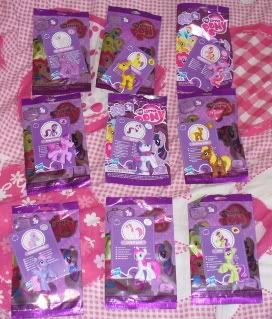 My haul! Excluding my Pinkie as she's at home. Also I have two doubles which I didn't open. Don't know whether to sell them or give them away.
I think I might try to get the whole set of these now (I think they're the 3rd lot), otherwise I'll sell ones I'm less keen on.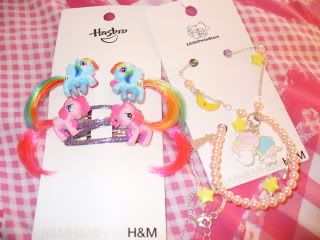 Yesterday I also picked up these cute accessories from H&M! Thanks to Amy for letting me know they were there. The pony clips are so derp, but the Kiki & Lala set is so cute!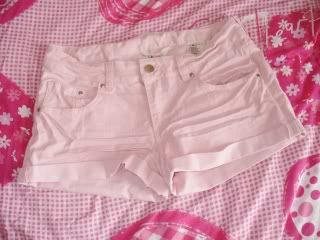 And today I bought these after thinking over whether to buy them. They're from the kids section and they're really tight, but they were only £8 and I'm going to try to stretch them out! They look fine on, but they just enhance my already prominent love handles!!
Wondering how long it will take before a new box of blind bags arrives at Snooks. I think I'll check tomorrow and take the list of bag numbers I need!