☆ Day twenty-eight: 5 of your favourite places.
Favourite places seems such a weird thing...I like lots of places! And I never know how specific I'm meant to be...my favourite place to be is probably snuggled up in bed with a fluffy hot water bottle! But I'm guessing I'm supposed to do outdoor places =P
Here are a few places I like to go to. They probably aren't my ultimate favourites, but I'm too lazy to think right now, had a stressful few days what with work and missing out on the house I wanted for next year (doomed to be homeless, fml).
The Isle of Wight - I go there on holiday once a year usually, sometimes more often! I'd love to live there some day, it's so small and there are lots of nice places to go for walks! The shopping is really bad, but you can just hop on a boat and go to Southampton or Portsmouth. Here's a photo I took in Yarmouth.





Chew Valley Lake - It's the lake closest to my house and it's nice to go for a walk there. We usually take a picnic and feed the ducks...and have ice cream, of course! It's not the best lake, but still nice.





My garden - On a warm Summer's day, sitting out in the garden with a book is heaven! Our blossom trees are beautiful in Spring too, and we get a lot of birds. We're currently having a path put in and a pergola, I can't wait until it's finished!





Disneyland!! - I've only been a few times and I'm a total wimp when it comes to big rides, but I love all the shops and lights. I wish I could go again, but children annoy me...they should have days when it's adults only!





Weston-Super-Mare - It's the closest beach to where I live. It's pretty naff and the sea is usually so far out you can barely see it, but I love going there! Sitting on the sand, blowing lots of money on the grabber machines on the pier, eating chips and mushy peas and fresh dohnuts and ice cream, watching the sun go down!


I actually went there Friday afternoon with Rob, I took some derpy Instagram photos!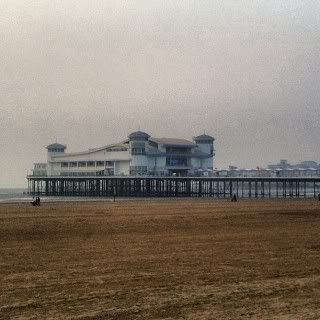 Looking forward to Summer weather so we can go again and just spend all day on the beach.
So it seems that this meme is almost over...must start thinking of blog ideas! I have a few already, but whether I'll implement them is yet to be seen.