Our Halloween meet isn't until November, but I haven't participated in the
Lolita Blog Carnival
for a while now and I figure this gives me a chance to start thinking about my outfit for it!
I have only one Halloween-specific lolita piece, and that is Baby, The Stars Shine Bright's Halloween Alice from 2007. It's a dress I've had for a good few years, and it was one of my dream pieces when I bought it. While not too wearable, I doubt I'll ever sell it as the cut is so unusual.
This is a coordinate I made using this dress from way back in 2011. Since the meet will involve a ghost walk, I imagine I will coord it in a more practical manner this year. But we'll have to wait and see!
What kinds of themes do you like to bring into lolita at Halloween? I'm really not adventurous with it at all!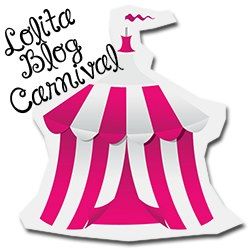 The Bloody Tea Party ♥ The Cute Lifestyle Hello Batty ♥ Vanilla & Licorice