I have a few festival-themed posts lined up, but between poor internet connection and lots of overtime it might take me a while to get them posted!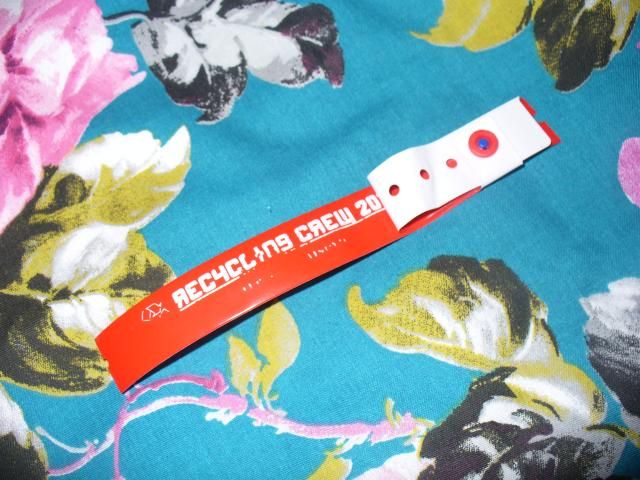 This is just a short post about my experience of volunteering at Glastonbury Festival this year.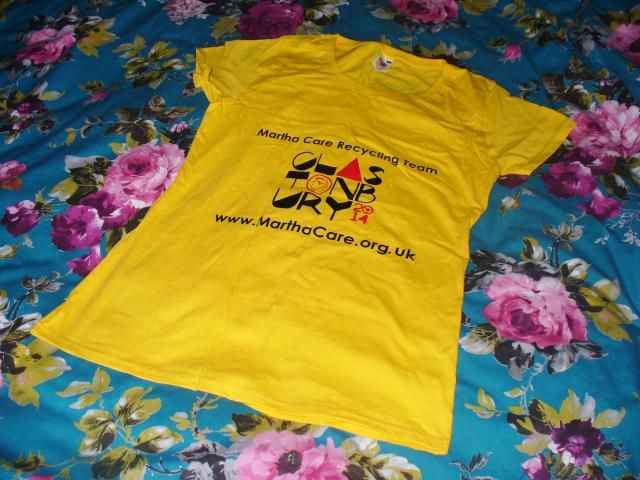 I was working in the recycling centre for the charity Martha Care, which raises money to help families of sick children in the South West, especially Bristol. This is the shirt I got for helping out, which made it easier to find others from our crew and also spread word about the charity. I also got a wristband, but it must have gotten mixed up with my other ones when I unpacked!
We had our own field (Tom's Field) for camping which was much more spaced out than the other fields, and it was very close to the recycling centre and the pyramid stage. There was also a bar and café/restaurant tent, cleaner toilets, and a bunch of showers for us.
We got a meal ticket upon arrival when we collected our protective work gloves and crew shirts (saved me ruining my own clothes!), and 2 meal tickets upon completion of each shift. These could be exchanged for hot vegetarian meals or packed lunches. The food was GOOD and portions were HUGE. I had a few decent cooked breakfasts and really delicious stew and curry! We also had boiling water on tap and free tea and coffee. I drank sooooo much tea, and was glad I took biscuits with me to dunk.
There are several kinds of work, but it seems like the most common were litter picking and recycling centre. I was on the morning centre shifts at 6am-noon on Friday, Saturday, Sunday, and Monday. That meant that I missed earlier acts, but was obviously much better than the afternoon shift would have been!
Work in the centre wasn't
too
physically demanding, but I was stood up and moving the whole time. I think it would be difficult if you were really unfit, and I struggled with my height (or lack thereof) a litte. We got a little tea break in the middle of our shift, which was generally much welcomed. The centre strongly stank like old cider, and the normal lines were fine to work on as you are just sorting cans and bottles and other recyclables into different bins (like one of those catching games, such as the berry one on the most recent Pokémon games).
However the compost line was DISGUSTING and stank like shit. You end up handling shitty baby nappies and used tampons and maggots. I was almost sick one day that I was on that line, but that was partly to do with the migraine that was trying to happen in my head. You get suit thingies to wear, but the filth & stench soaked through a bit so I was glad I took different clothes to wear for work!
Would I volunteer again? Probably. My ticket money will be refunded, so it means I got to go to the festival for free. It also means that Martha Care gets money from the festival too, which is great. However a lot of volunteers didn't bother turning up to their shifts or just slacked for all of them, which is infuriatingly unfair! Don't be a dick, guys!