Since the beginning of the year, I have made a few Japanese purchases with Celga. I've used them a lot in the past and used them instead of FromJapan in this instance as FromJapan has limits with regards to number of Angelic Pretty purchases allowed (I think that was what it was anyway, and I know that's happened before so I'm assuming that was the reason).
I must admit, I was a little disappointed with them on this occasion. They usually provide a stellar service with quick responses and personalised emails, but I think they must have some new staff. One member confused which items were for bidding and which were for buying, for example. Also I asked for my parcel to be marked down to ¥10,000 and they fully marked it down to $39! Although that meant I totally skipped customs, so I guess I can't really complain. They weren't totally awful or anything, just not up to the standard I recalled from previous experiences.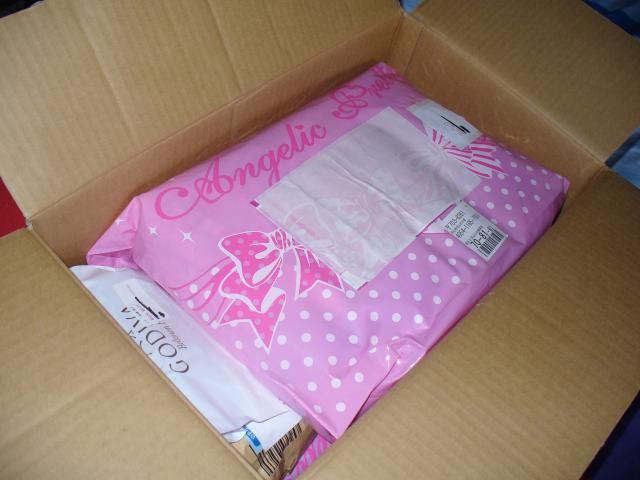 Everything was packaged up nicely! The box cost around 8,000¥ (£50) to ship, if I remember correctly. Which stings a lot less since I didn't have to pay any customs or VAT. It was shipped on March 8th and arrived on the 11th.
So, onto the haul(s)! I won't be including fees in the listed prices as it'll just be far too complicated, but the total item value before shipping was $1,045(£630...holy balls!).
Angelic Pretty Sale Order
Back in January Angelic Pretty held a big sale! There was nothing that took my fancy really on the International site, but I'd been eyeing these items for a while and I just wanted to get something to be honest!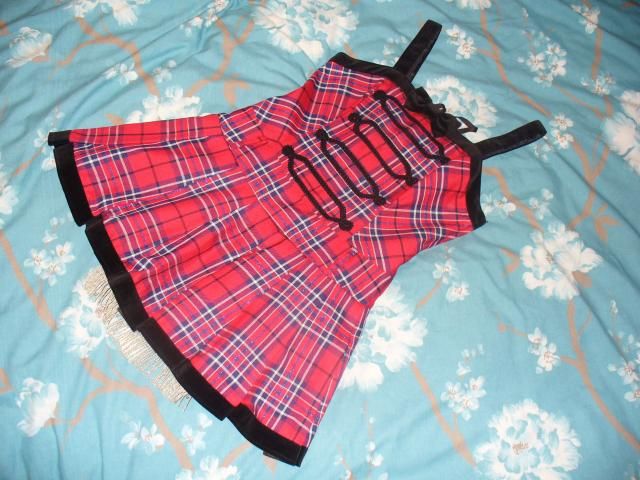 First up, Coat of Arms Tartan short JSK! According to my invoice it cost ¥12,495 (£73), so I guess it was reduced further after I bought it. I was tempted by the regular JSK as it was a similar price, but it was this version I'd been tempted by first.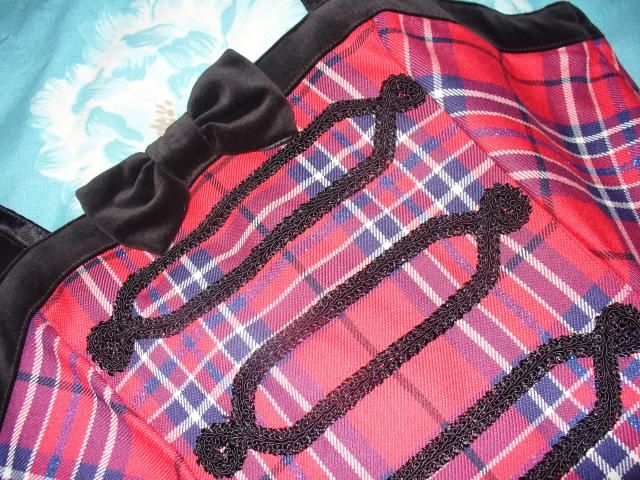 I like the pink version a little more I think, but plumped for red since I already own a similar piece in pink. Sadly the headbow sold out before my stuff was ordered.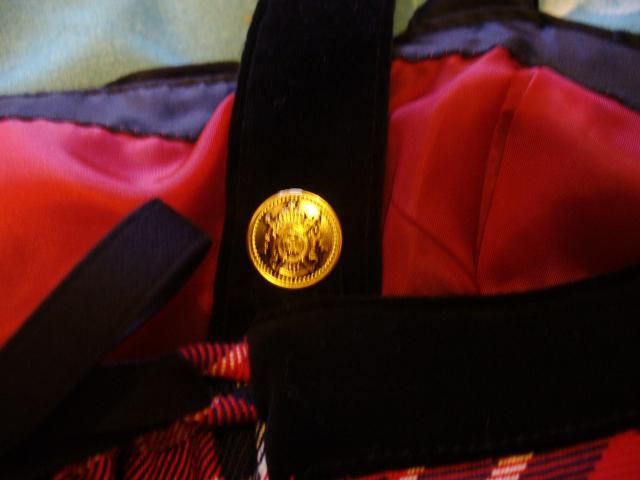 I love AP's cute little details such as the buttons.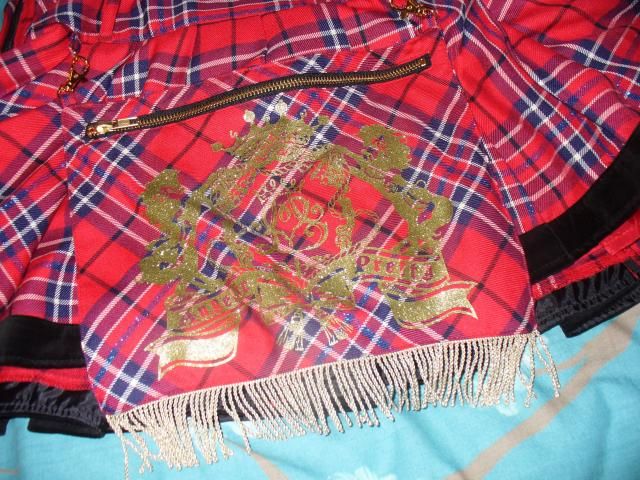 Detachable pouch on the back. Mixed feelings about this dress really. The fabric has a lovely shimmery blue thread running through it that wasn't evident from the photos online, and the fabrics are all very soft and light. However, it is short. And if it's short on me, then I really mean SHORT. I assumed it would be like my Happy Girl JSK, but it must be shorter than that! I'm hoping it will still be okay, but I wouldn't recommend it for anyone taller than me! I was going to remove the pouch, but it kind of acts a modesty one!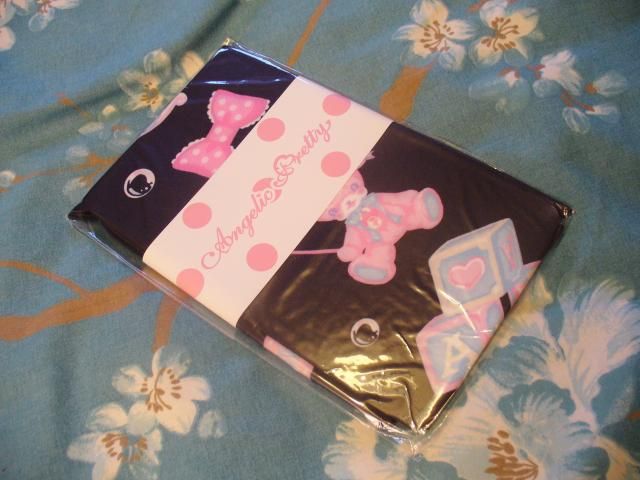 I wanted some more tights too that I could wear with fairy-kei styled coords, so I picked up Dreamy Baby Room tights in black for ¥2,100 (£12). The print isn't that great and the name makes me cringe a little, but the contrast on the tights really looks great and I'm looking forward to wearing them! Maybe to Kyary?
Another Angelic Pretty Order
I spotted by chance that there were Etoile Twins special sets on the Japanese site, and there were a few things I regretted not getting in my previous order, so I placed another one.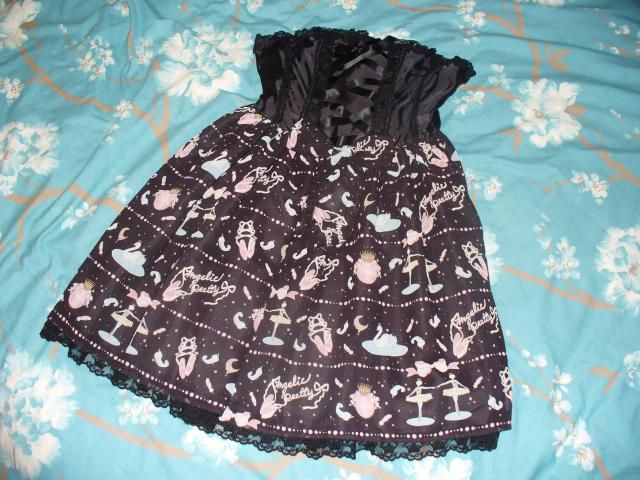 My first choice cut was out of stock already, but I couldn't resist the price of ¥10,500 (£60) for a JSK and heabow set! I always liked how dreamy and floaty this series looked.
I'm a little disappointed with the print as I feel it could have been a brighter pastel instead of very muted, but the bodice is a lovely soft silken fabric and it's such a little party dress! The lace has little crowns on it.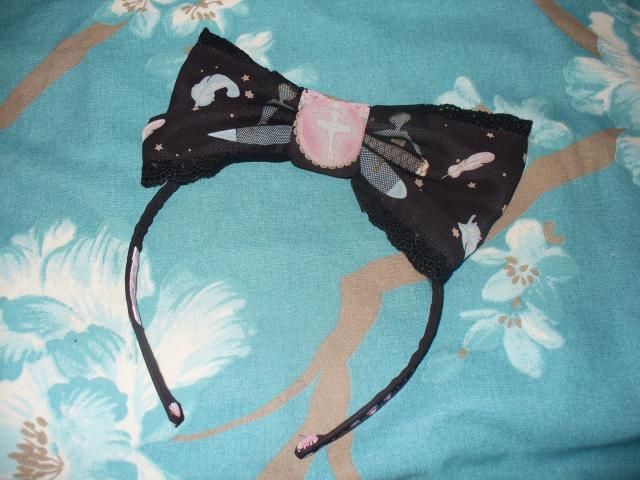 The headbow is quite understated too.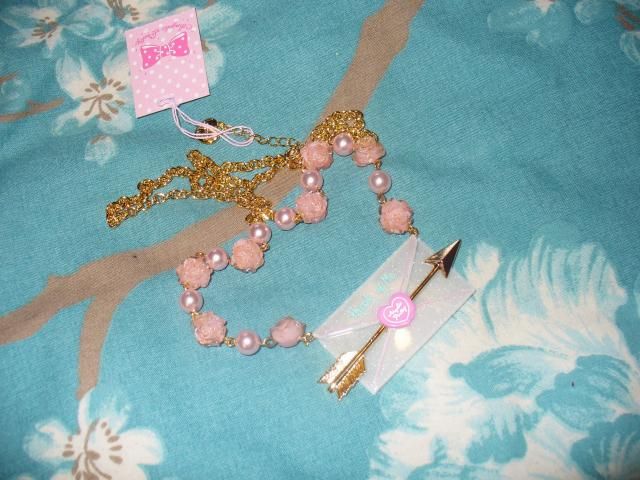 Since I already ordered Romantic Rose Letter (see below), I thought I'd pick up the matching necklace for ¥3,990 (£23). I was torn between pink and lavender, but figured pink would match more. This is my first AP necklace! I love all the glitter in it, and it certainly doesn't feel 'cheap' as people always say plastic jewellery is.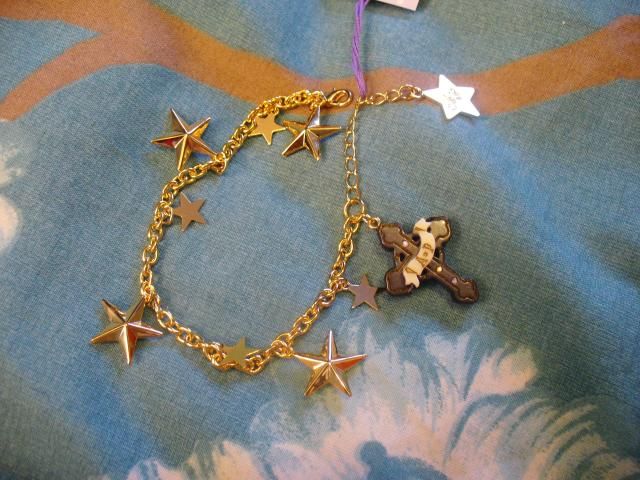 I also finally bought some black Holy Lantern jewellery, although only the bracelet was left, at ¥3,150 (£18). It's smaller than I imagined, but very adorable. Holy Lantern is probably one of my favourite series anyway, so I'd love to pick up the earrings and necklace too if the opportunity ever presents itself.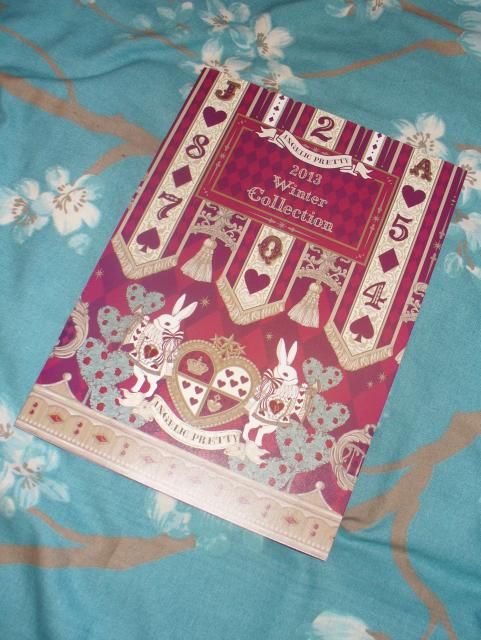 I also thought I'd get a catalogue since I've not had one before, for ¥840 (£5). It's pretty small, but a nice thing to have.
Mbok Auction Buys
I've always had a weak spot for auctions, but this time I have a very good excuse.
I fell helplessly in love the Romantic Rose Letter OP, but couldn't decide on a colourway and missed them going online anyway. I was in two minds about buying it at all as it was so expensive and OTT, but I chanced it at auction. The listing didn't show good proof photos and the price was suspiciously low for such a popular series (in the most popular colourway!) so I thought I may have been scammed. I couldn't have been more wrong!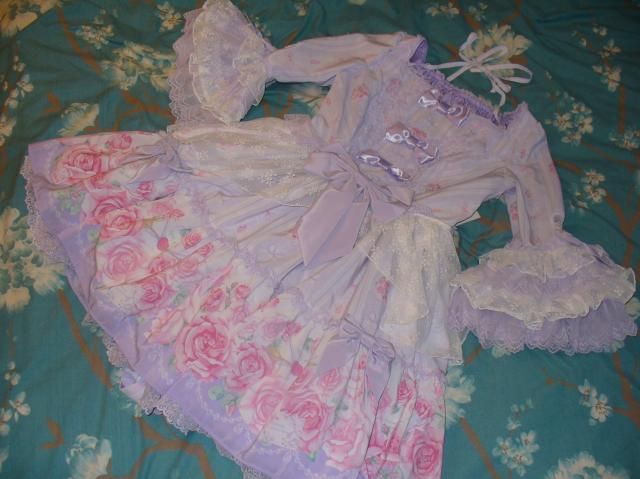 I got the dress with bonnet for ¥46,000 (£270), when originally the OP cost ¥41,790 and the bonnet ¥8,295. It is STUNNING. The only flaw I could find was that the bag it came in smelled kind of bad, as if it had been in a home that was smoked in, and it transfered to the clothes a little. Both items still had tags though and didn't appear to have been worn.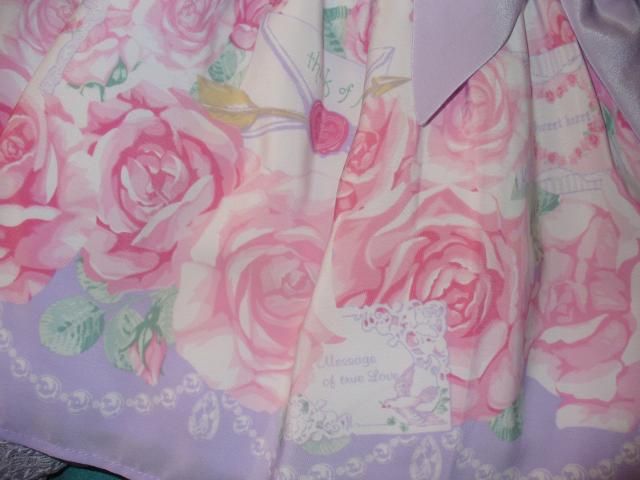 The dress is so silky, nothing like the chiffon of Powder Rose as I'd imagined it would be. The lace is a little tacky-looking close up, but other than that it is absolutely perfect. The print has so many subtle details that I didn't notice, such as the writing on the letters, doves with branches in their mouths, and the lace and pearls that are printed all over.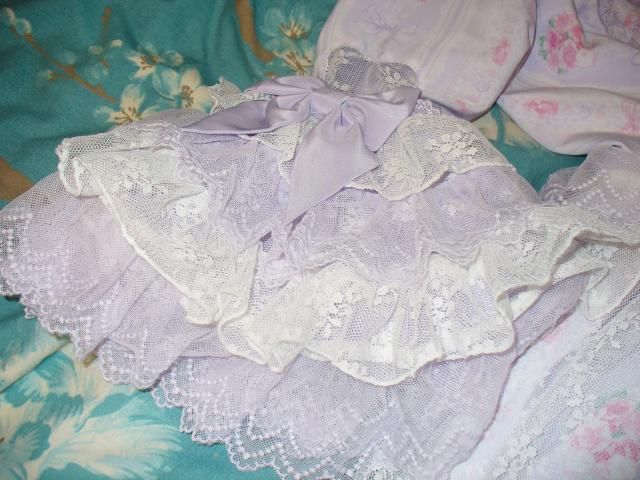 I hadn't noticed the little hearts on the sleeved before, and thankfully my arms fit them! And the princess sleeves make me feel like an angel or something. The lace trim on the bottom of the dress has ribbons and roses on. It also has a huge ruffle-butt, but it was too hard to get a nice photo of!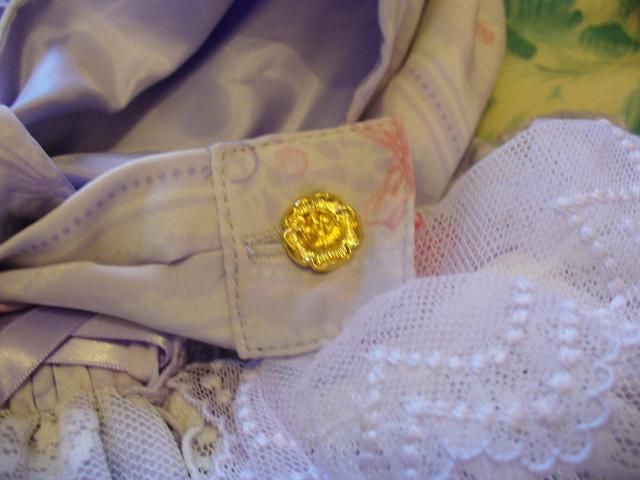 And theme buttons!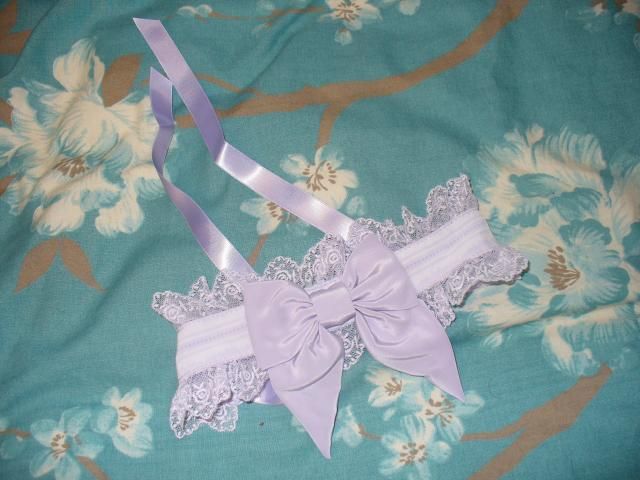 Neck tie thing that came with the dress.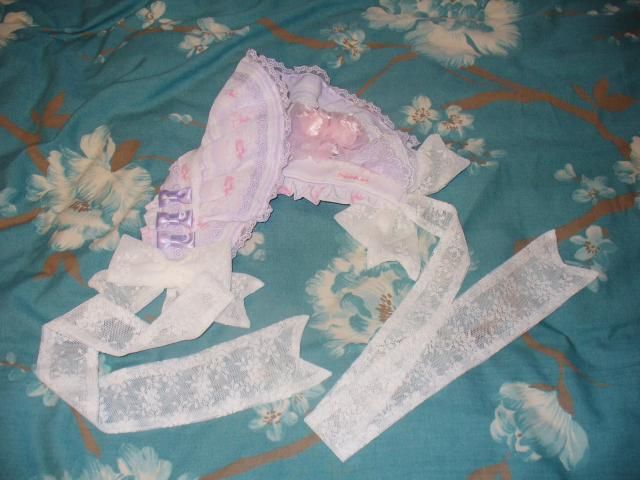 I'm not sure if I'll use the bonnet as they really don't suit me, but I really love owning it anyway!
Other Mbok purchases...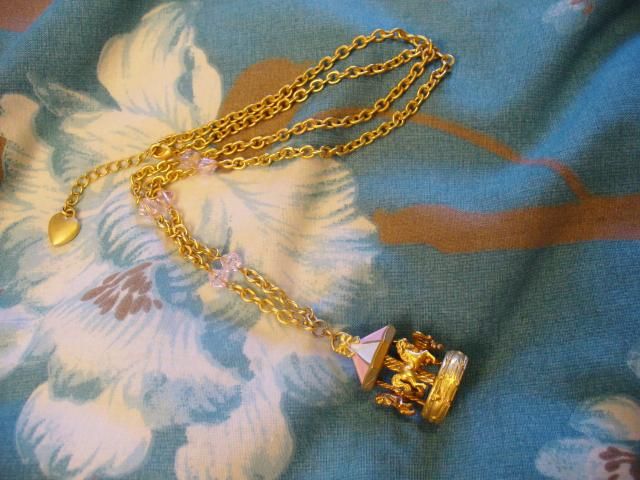 Impulse buy of an AP carousel necklace for ¥2,000 (£12). It's not as cute as I'd hoped as the gold is kind of gaudy, but it's a perfect match for Sugary Carnival and various other things I own. I already own a red carousel necklace, so now I have one for every outfit really since red and pink are my main colours!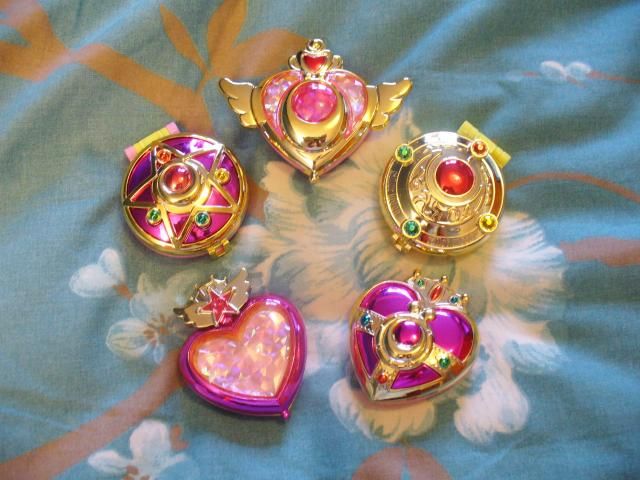 Sailor Moon gashapon compacts for a rather hefty ¥3,500 (£20). They were no longer available on J-List when I bought them, and then they were put back up for a second round of pre-orders afterwards. Doh! I'm just glad to have them though, as they're adorable! Cutieeeeesss! I might attach brooch fasteners to the back so I can wear them like a real mahou shoujo!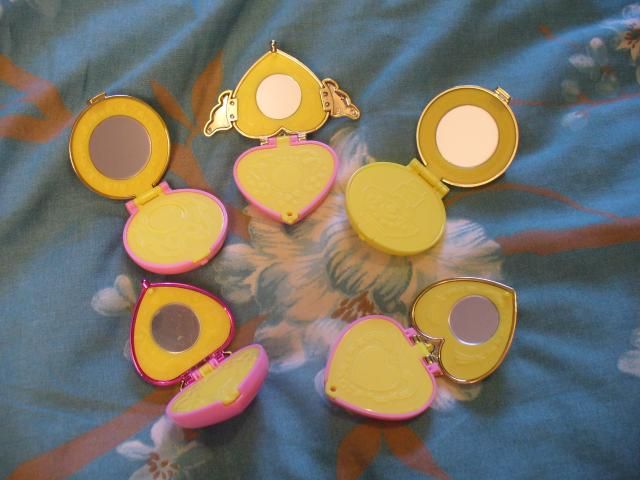 Although those mirrors are totally useless and merely decorational lol.
I'm absolutely thrilled with my purchses, even if they set me back a lot. Definitely have to wait a while before any more online frilly purchases though!