After eyeing up the BTSSB Valentine's watch for a week or so, I finally caved and ordered it. I picked up a couple mooks too to make the most of the postage.
I've never used amazon.co.jp before as I didn't realise that they shipped internationally. Also in Japan CDs tend to be really expensive, so I don't tend to order CDs (although I do own a little bunch of them). Mooks are much cheaper to buy direct, though!
I ordered on the 17th (Japanese time) and it arrived on the 19th here. So speedy! DHL even sent a text in the morning to say that it would be delivered today and that I could change it to Thursday or Friday delivery if I wanted. Shipping cost ¥2,200 (around £13), which isn't bad since I was buying a few things.
The box was sturdy and the items were sealed together in a bag which was glued to the box so the items wouldn't be damaged (unlike amazon.co.uk who use a huge box for everything, including calendars and vinyl records that then end up getting bent in transit).
My little haul! I realised the day after ordering that there's a Creamy Mami mook I really want, but I'll just have to hope it's still available when the next AP mook is released as shipping is insanely pricey for one item.
The BTSSB Valentine's watch! The 'book' is only a tiny booklet, but pretty sure everyone was buying it for the watch anyway. It cost ¥3,000 (£18).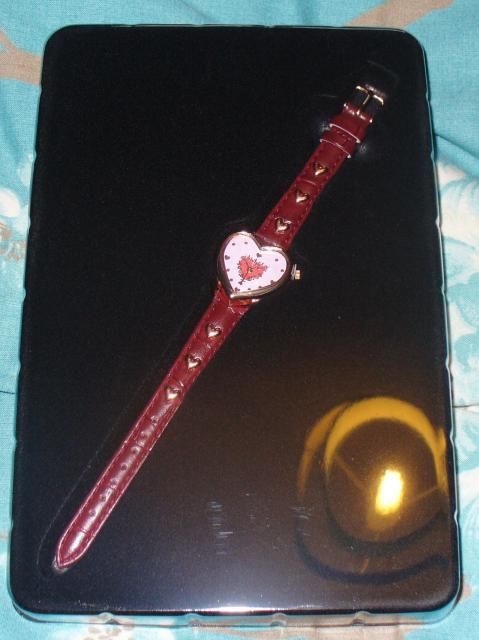 The watch looks really cute! It's a shame there aren't numbers on the face though, as telling the time isn't a strong point of mine. Hopefully it will fit my silly tiny wrist!
Next up, a Muchacha Ahcahcum catalogue thingy with bunny bags. This was a total impulse buy, and I probably have no use for bunny bags really (I prefer my cat ones even if they are fake), but at ¥1,900 (£11) I dont regret it at all.
This bag isn't flat like the cat one was, but kind of squarer. Has an inner zip to keep your things safe! I guess this bag will go with a lot since the colours are simple. It's a shame that it's not bunny-shaped though.
Slightly creepy red-eyed bunny purse! This should go with the bunnies on Wonder Story and Wonder Queen, although it doesn't really match the bag it came with.
Lastly, I threw in the latest volume of Kera as it's my favourite mook/magazine. It was only ¥467 (under £3). I'm tempted to try to flesh out my collection a lot more next time I order - they're not only cheap, but have lots of pages of pure awesomeness!
Overall I am extremely happy with my order, although I haven't read my mooks yet! I'm definitely going to order more from amazon.co.jp in future, although I'll have to wait a while since I dropped almost £50 on this order...oops!