This year I have definitely noticed a shift in my lolita style, and so I thought now would be a good time to get back on the
Lolita Blog Carnival
!
While I haven't worn lolita very much, there has definitely been a shift in purchases from pastel colours and supersweet prints to darker, more mature colours. In fairness, this change occurred more last year, but it definitely became more pronounced this year. And I finally got my hands on some Juliette et Justine this year!
The easiest way I can show this is by showing my outfits from the two big events of the year.
For
Enchanted
back in April I wore the most OTT sweet piece I own. Lots of pastels and cloyingly sweet! Everything matched with pink, all the time.
Fast forward to September's
Revelry
and darker colours reign. Still sweet style, but more carefully chosen accessories.
I'm not pleased with either of these outfits to be honest, and I plan to rework both in future. Who knows, maybe I'll show more changes when I wear those pieces again!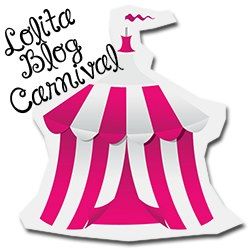 Alice In Lolitaland ♥ Bloody Tea Party ♥ Candied Dreams ♥ Kingdom Of Frilly Magic ♥ My Life's Libretto ♥ Oh Velveteena ♥ Reverie et Creation ♥ Sweet Expedition ♥ Vanilla & Licorice