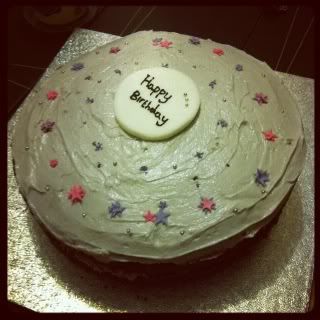 My 21st birthday was exactly a week ago (on pancake day!), but it was a bit of an odd one this year. I ended up opening all my presents on the Saturday when my whole family was over, opened one small present on my actual birthday and got a few afterwards (at Hyper Japan =3)! I'm still waiting for one, apparently it still hasn't arrived =[
Also, a lot of my presents from my parents I bought myself! Remember the Primark stuff I posted? That got paid for, as did these cute pastel granny cardigans.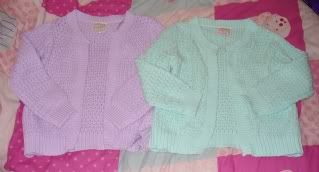 Here's what my parents gave me: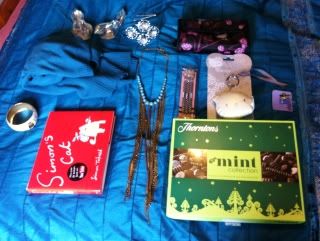 Glass bird candle holders, blingy headband, bird pencil case (I actually got one last year too, but now I have one for make-up!), teal cardigan, owl bracelet, Simon's Cat book, tassel necklace, eyeliner set, Hello Kitty bag charm (her bow is missing =[ I'll have to make one!), humming bird ring, mint chocolates.
This stuff was from my grandparents and aunt: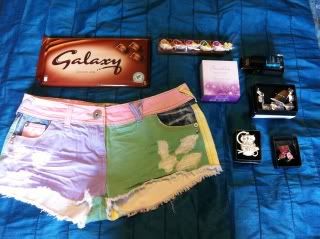 BIIIIIIG bar of Galaxy, mini elephant-shaped candles, cute shorts, snowflake-shaped bath bomb, teal nail varnish (I actually got one for Christmas too...sadly it's really bright and stained my nails green!), reversible necklace, owl bag charm, owl earrings.
Got this cute little box from Rob: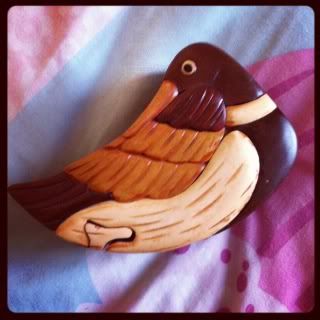 ...are you sensing a theme? So much bird and owl stuff!!
Also he gave me a My Little Pony card!
I ended up getting £130 and a £20 Next voucher too, so I had spending money for Hyper Japan. I have no idea what I'll use the Next voucher on, their stuff is always expensive and not my style at all!
I ended up spending some of my money in Claire's too.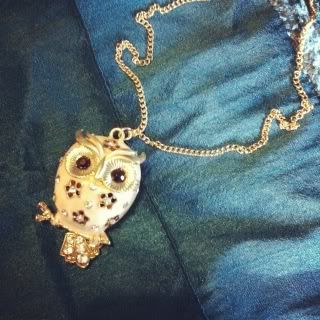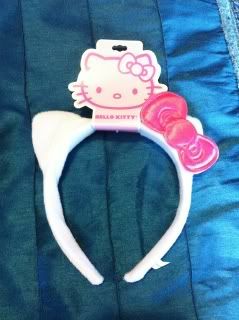 I couldn't resist!
I'm a little disappointed I didn't get to do more for my birthday, but I still got to have a Chinese takeaway with my family and sushi with Rob! I put back on the 2lbs I'd lost though...but I looooove food so I don't mind so much =P