Last Saturday was the day of the much anticipated Frock On! event in London.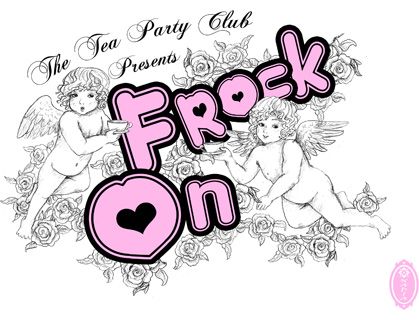 We had to get up at 6am which was painful after a late night of watching scary videos and snuggly-wuggly poodles! Unfortunately the bring and buy opened at the start of the event as opposed to a little later as was suggested by the programme, so I think we missed the bargains! I was also too lazy to take anything to sell, which I regret now.
I had intended to wear a simple old-school coord, but I ended up going a little crazy with it as my rocking horse shoes matched the style, and Ziggi convinced me to wear a bonnet as she was wearing one too! The dress is BTSSB's Lovely Sweet Room, and the bonnet is Angelic Pretty's Glass Bottle of Tears. My bonnet kept pushing my headbow down all day so it wasn't particularly comfortable!
This was Ziggi's outfit! We matched pretty well, and she looked totally gorgeous. We only saw the first fashion show (we went to Subway while the other was happening as we were all hungry), but there were so many gorgeous dresses! Unfortunately I didn't get any good photos due to the lighting and my increasingly slow camera. My favourite was this Juliette et Justine one as modelled by Chokelate.
We mostly wandered around looking at stalls and chatting to fellow frillies! I was so stuck on what to buy. I ended up buying the Innocent World dress pictured below. It was £150 and turned out to be a big mistake as there are some little faint stains, it's worth less than what I paid anyway, and it's
WAY TOO SMALL
. It's such a shame as it's a gorgeous dress with lovely thick fabric, and it's much more the style I want to move towards.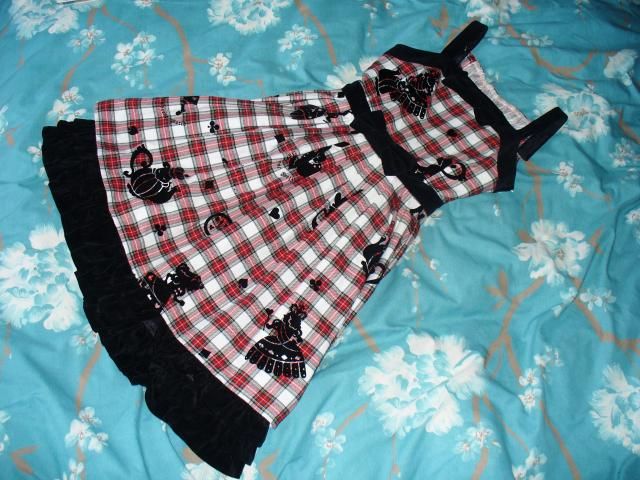 I almost bought the Angelic Pretty Milky Planet rerelease JSK in lavender, but talked myself out of it (still tempted to contact the seller and get it, but I know I shouldn't!). Was tempted by a BTSSB Red Riding Hood JSK too...I wish I had bought it! There was also a painting dress but it would have been too small.
I really should have bought some Grimoire tights but I couldn't bring myself to spend £30 on a single pair, just as I couldn't bring myself to spend £20 on a flower crown even though they were stunning. At the next event I definitely intend to buy both!
My favourite item that I saw was a gorgeous shiro JSK by an indie brand...but it was £500!
There was a Gok's Fashion Fix style show where brand and offbrand outfits went head-to-head, which was really fun to watch.
There was also a posing demonstration (including the 'Malfoy step'!), and a Q&A with the indie brand designers.
The venue was great, loads of false book cases, amazing paintings and chandeliers, and the toilets had a sort of dressing room with lots of little seated mirrors and even a chaise-longue!
There was also a photo booth!
I didn't win anything in the raffle, but I did have my super VIP goodie bag that came with my ticket. This was what was in mine.
I still can't figure out what the BTSSB usakumya thing is supposed to be used as!
I also picked up Sophie's bag for her as she was too ill to attend. She got some super-cute BTSSB socks!
I had a really nice day, but I got tired very quickly! I'm also sad that I couldn't attend the tea party as I think it'd be much more my kind of thing. I'm making a promise to myself to go to it next year for sure.
Attending this event has really gotten me interested in lolita again! I want to sell off a whole bunch of OTT sweet pieces to I can buy some more wearable pieces and dream items! Although this will take me a long time as my stuff is still in the loft and I'm rather too lazy to sort through things and go through the hassle of selling...