Way back on April 7th I placed my order for Day Dream Carnival after much deliberation. I'm still not convinced I made the right decision as I'm more of a JSK person than a skirt one, but finally it is with me so I can try it and see!
This was my first time using Angelic Pretty's International shopping site, and I found ordering to be quite a smooth process. There was a little delay on payment confirmation, but nothing too extreme.
The items themselves cost 22,155¥, shipping was 3,730¥, and insurance a further 50¥. I didn't get a customs bill from Parcelforce before delivery, so fingers crossed I have avoided customs for a total cost of £165 at current exchange rates, which isn't bad at all.
The items were shipped on the 12th and arrived today, on the 16th. Pretty speedy!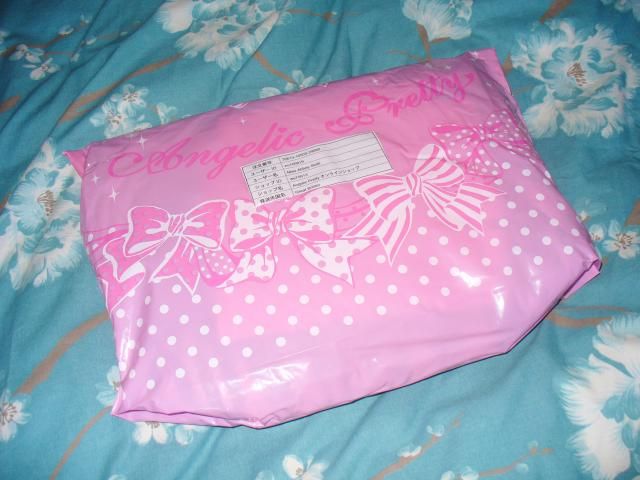 The goods were wrapped in an Angelic Pretty bag with a bubblewrap pack over the top. I was a bit surprised that it wasn't boxed or in sturdy-feeling wrap, but it all arrived safely so it isn't an issue.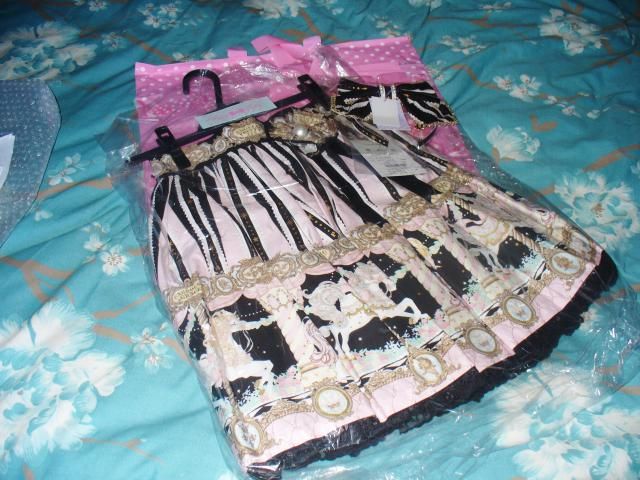 Inside my items were bagged and there was an undamaged AP bag in addition to the one they were wrapped in, and an AP sticker.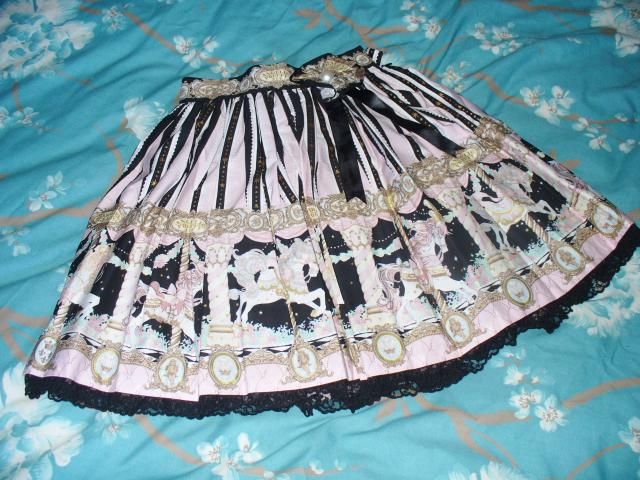 The skirt! I'm really not a fan of this brooch, but I guess it will be nice to pin it on my jacket in winter to tie outfits together. The gold in the print looks stunning when the light catches it. Obviously the overall quality is fantastic with nice feeling fabric and lace.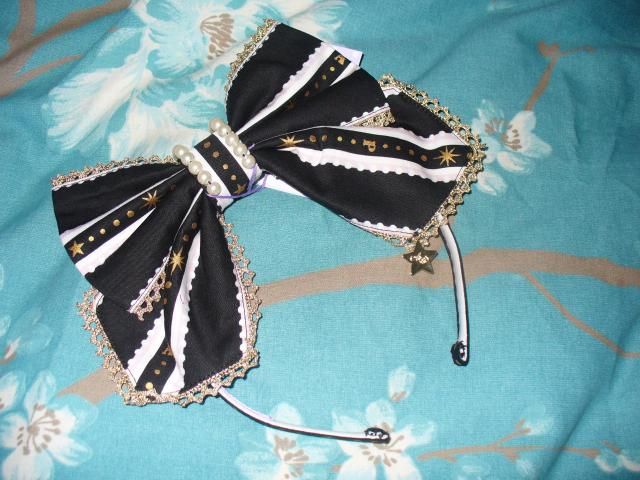 The matching headbow. I'm not a fan of this gold triangle trim (especially since there is none on the skirt) but it will be handy to wear with lots of things I own since I tend to wear black a lot and always with gold jewellery. The dangly star is just adorable, and the pearls are a nice touch and they match the brooch.
And a comparison with Sugary Carnival! The ponies looks very similar but more detailed on Day Dream Carnival, although the marshmallow motif is still evident in the pillars. I actually think Day Dream Carnival has overtaken Sugary Carnival as my favourite print! I didn't think that could happen, but it's just a lot classier and therefore should be easier to wear (and I wear Sugary Carnival the most out of all my pieces anyway).
I've yet to try on this set, but I'm very happy with it so far. No customs made it a bargain, and means I'm even more tempted to buy either Musée du Chocolat or Holy Lantern. I'm favouring the former, but I can't decide whether to go for pink or mint colourway (I originally wanted mint but I would be able to coord pink much easier). But I'm not sure it's still available and it's much more expensive than this set, so who knows what I'll end up getting!