Price
4/5
Shipping
4/5
Communication
3/5
Overall
3/5
When I decided to try for a lucky pack, I knew I needed a shopping service as online ordering is usually a pain in the backside (although I did actually catch the packs on the international site this year, which is annoying!). I had seen this shopping service on
Facebook
and a few friends had also liked the page, so I decided to give it a go. I couldn't find any reviews, but many of the commenters seemed to be returning users and they seemed happy. After a little poking about it turned out this person was supposed to be giving me free acrylic nails to model ages ago...I never heard back after confirming which print I wanted them to match.
The fees for this service are 12% + Paypal + ¥250 for bank fees. There are cheaper services out there but I figured that they'd be full already, and I know some charge much more during lucky pack season!
I requested a reservation spot on the 9th and paid on the 12th of December, before the online reservation. Unfortunately there were too many orders for me to get one though, so I had to wait for the instore release at the beginning of January. My salopette was confirmed on the 2nd, but my attempt at Toy March was unsuccessful as they were released in such small quantities (4 per store, I think). The colour of my salopette was not mentioned so I'd assumed I'd gotten my first choice, and by the comments on her page I was first in line for the salopette set as right after the internet reservations I was the only person after a salopette set at all, so you can imagine my suprise when I opened my pack to find my 3rd choice colourway (either there were none or people with no back-ups got priority, doubt I'll ever know though).
I requested the remaining money be refunded on the 2nd of January but got nothing (and much more money is kept by the service when it's a lucky pack refund), so on the 6th I requested auction bid on the JSK set instead as I saw that people making requests were getting replies. I got winning confirmation for on the 12th, 3 days after the auction finished. The seller forgot the socks so sending was delayed.
Most communication was slow and a bit confusing and ambiguous. Looking at the exact dates it doesn't seem so bad now so maybe I was over-reacting at the time, but when that much money has exchanged hands a small amount of time seems like a lifetime! I say ambiguous as I thought my package had been sent out when it was the auction set that had been sent to the service, and a message was sent to me saying it had been sent when that message was intended for someone else!
My packs didn't get sent out until the 1st of February, and upon checking tracking a day later I found that the package was going to my billing address instead of my postal one, despite me re-confirming it previously when I'd realised that I'd accidentally used different addresses in my payments. Luckily it went through customs with no hitches as it would have taken forever otherwise being that I don't live at that house! The package arrived on the 4th, nicely and safely boxed.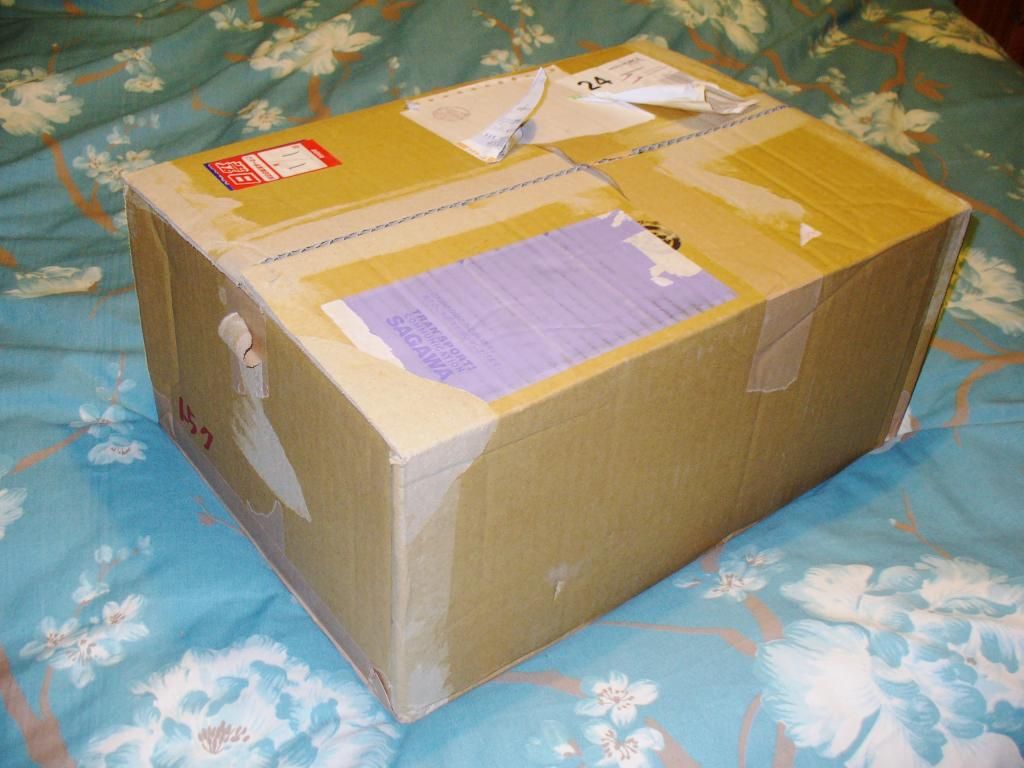 While I'm glad I didn't have to pay customs, I'm annoyed that my package got marked down to ¥5,000 value as I've had bad luck with post recently (although it seems I was just scammed by HMV rather than postal issues) and I wouldn't have been able to claim had it been lost. Also one of the tags was left in the bottom of the box, so if customs had inspected it I'd have been busted and would have had to pay a ridiculous fine (I think they can fine up to £1,000!). I suppose I should have specified that I wanted it marked at full value, but since it's illegal to mark down I'd assumed the legal option would be default. More fool me.
Overall I would probably try to avoid using this shopping service again, but would still consider using it. While the price was acceptable, the service was quite unprofessional, although I realise that lucky pack season is a stressful and busy time, plus snow and illness intervening. Furthermore someone else is helping to run the page now, so it may be more efficient in future. The fact that I'd know what to expect would mean future experiences with this service would probably be viewed more positively even if the standard was the same.