In the run-up to Reading Festival rumours had been flying around concerning Green Day. We pretty much knew that they would be playing on the
Saturday
but we didn't know when until, while sat being bored at camp, we heard 'Welcome To Paradise' blare out from the NME tent. POOP! We had to leg it there, missing several songs (although most of them seem to have been new ones I didn't know).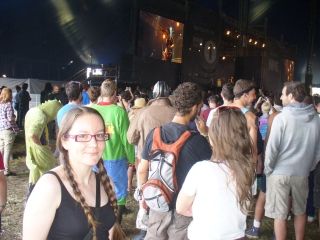 As you can see, we still got pretty close! Although our view was blocked by one of the tent supports so we could only see a sliver of stage. But still. It's GREEN DAY. And lots of people weren't even allowed into the area surrounding the tent, so we were pretty lucky!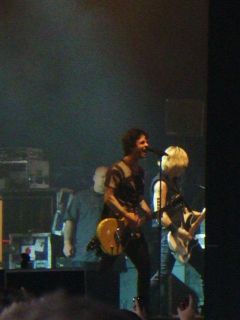 Obviously they were really good, as always. I last saw them back in 2005 and I was not disappointed!
The only problem with seeing Green Day so early in the day is that it's far too much to live up to. Back at Main Stage I caught the end of Los Campesinos! and Blood Red Shoes. I had planned on seeing Pure Love over at NME but I've seen them before so I thought I'd be adventurous!
I did however head over to NME alone to see Twin Atlantic as I'd read in Kerrang! that they're like old-school Biffy Clyro and I stupidly thought I'd love them. LOLNOPE. Would have been okay but some bits they were too much of a rip-off only their riffs were weak and the singer's voice was crappy compared to Simon Neil's. Most people's voices are crappy compared to Simon Neil's. I'll have to give them a fairer chance at a later date, but now the comparison is in my mind I don't think they'll ever win me over.
Rejoined my little group of loners at Main Stage for the utter shite that is OFWGKTA, followed by The Shins. Lost my group during Enter Shikari, who aren't really my thing but I purposely avoided them last year so I thought I'd give them a go.
Went for a wander to find water, circling the NME tent during Billy Talent who sounded pretty awesome and then heading back to Main Stage to catch a bit of The Vaccines who were much less awesome. Should have stayed at NME.
But I'd wanted a decent spot for the next act, Florence and the Machine. Though their pretty back-boards were all I could see really as it was pretty packed.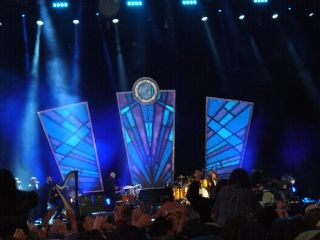 They were really good, but I didn't enjoy it too much as it rained a lot and I was absolutely freezing! Though nowhere near as cold as I was last year, so just about bearable. Main complaint is that they didn't play Drumming Song which is easily their best song Dx
I stayed where I was for Kasabian, who blew me away. I'd seen them do a short set at Live Earth a few years back and while I vaguely liked their singles I'm not really a fan. But the crowd were amazing and it was a really great show. Probably my surprise highlight of the weekend! I even managed to dry out a little from jumping about. Glad I chose to see them instead of chancing At The Drive-In.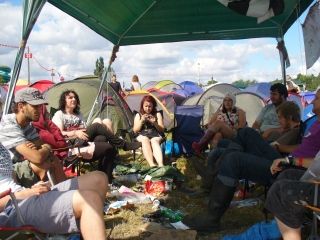 Sunday
morning loners! Looking a little worse for wear after all the rain on Saturday. And yeah I guess they'd been drinking for 3 days straight by this point! I decided to join in that morning as it was sunny and nice a few cans of cider seemed to be in order.
Had to go to the arena by myself as couldn't convince anyone else to come with me. As such I missed the first few songs of Of Monsters And Men's set on the NME stage, which is a shame as they're a really good band and even better live.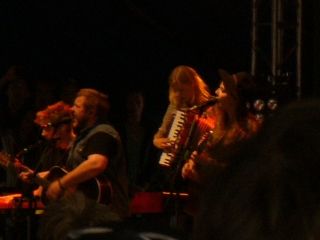 At least I didn't miss the song 'Little Talks' as it's the only one I know well!
Afterwards I bought a pint of cider as I didn't feel too tipsy after the two cans I'd had and I wanted to have a good amount of alcohol in me for Möngöl Hörde's set just in case it was rough! Caught a bit of Flatliners when I got to the Lock-Up. And then...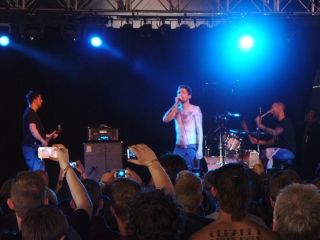 Möngöl Hörde! I'd been looking forward to seeing them the most.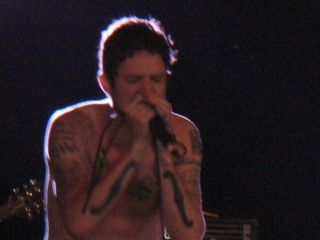 And they didn't disappoint. Even though I only went in knowing 4 songs. It seemed pretty tame from where I was, but apparently there was a circle pit and stuff that I totally missed as I didn't want to risk my glasses and I'm a short-ass.
It's a shame this was their last show this year. I'll definitely have to go see them when they tour though. And any sensible person would do the shame *shakes fist threateningly* eheheheh.
With that excitement over I trudged to Main Stage and saw the end of Eagles of Death Metal's set, Gaslight Anthem (who are really good), All Time Low (whose music is good but they're a bunch of immature dickbags). And then Bullet For My Valentine who granted me with my favourite photo of the whole weekend.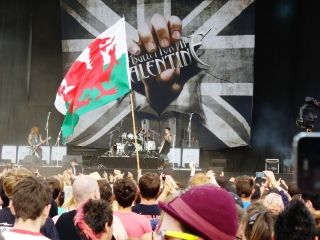 SO MUCH WELSH.
Then were the Kaiser Chiefs, and Or somehow found me so I had company for a bit! But I went on a water run after their set and got stuck away from the stage for The Black Keys (I still don't get how they subheadlined as I'd never heard of them and still don't really have a clue who they are). But it cleared up after they left so I got a good spot for...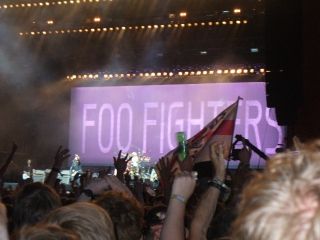 FOO FIGHTERS! Who of course put on a really good show, and I didn't even get fed up until right at the end of the 2.5 hour set.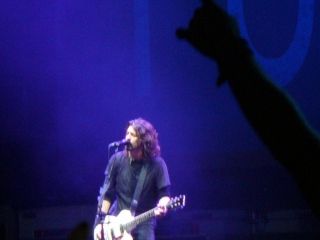 However I was stuck behind the four biggest douchebags I've ever known who were drunk and irritating and smoking weed and threw a cup of cider over my bag and threw several cups of piss on the people in front and started a circle pit for just them that meant I had to be saved by another member of camp who luckily happened to be there -_-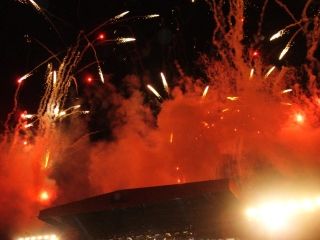 Aaaand the fireworks signal the end of an awesome weekend!
I had planned on staying up that night, but after a few minutes I was told I needed to get laid so I promptly fucked off back to my tent and decided that I hate people.
Monday
went pretty smoothly, although I wasn't really ready to go home as I wanted more music! Was nowhere near as tired or sore as last year. Ended up catching the train with Ross because Finn left before I even got up despite saying he'd travel back with me =/
Got back home at around midday, looking rough but in one piece! And boy was I ready for a cup of tea, shower, and some food.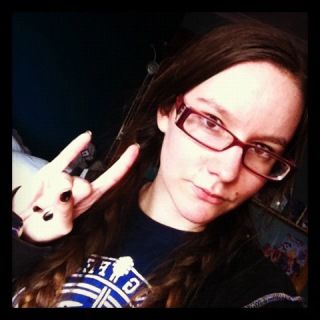 And here's some instagram shots of my wristbands and programme.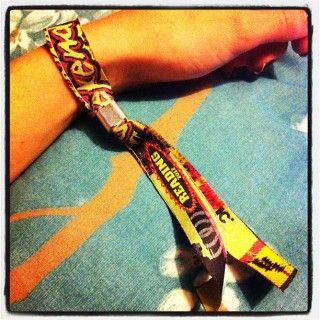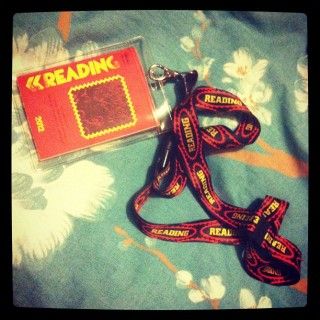 And I guess that's it for another year! Although I'll only be going again if the line-up is good, unless people convince to go to Download instead (though I doubt they'll succeed as I don't really like metal and there are unlikely to be bands I like there and I have a feeling the crowds would be rougher).