Finally, the full details concerning Biffy Clyro's forthcoming album have come to light!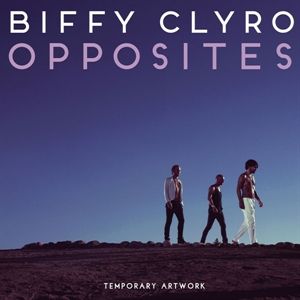 The double album is called Opposites, and the track listing is as follows:
The Sand At The Core Of Our Bones
1. Stingin' Belle
2. Sounds Like Balloons
3. Biblical
4. The Joke's On Us
5. Black Chandelier
6. A Girl And His Cat
7. Opposite
8. The Fog
9. Little Hospitals
10.The Thaw
The Land At The End Of Our Toes
1. Different People
2. Modern Magic Formula
3. Spanish Radio
4. Victory Over The Sun
5. Pocket
6. Trumpet Or Tap
7. Skylight
8. Accident Without Emergency
9. Woo Woo
10. Picture A Knife Fight
Click the titles to go the webpage for that disc!
The first disc has a negative, 'it's over' theme whereas the second is more positive and has 'a sense of resolution'. After reading the article in this week's Kerrang! magazine I'm probably most intrigued about the song 'Little Hospitals' as there's a verse entirely in kazoo which is...unusual, to say the least!
While it isn't out in the UK until the 28th of January, you can preorder it now from
http://opposites.biffyclyro.com/
. I personally just blew £50 on the limited edition boxset because I'm a bad (but very over-excited) girl!
And then of course there should be a tour next year too. Can't wait! Especially since it seems I haven't won iTunes festival tickets...