Once again I am reminded of how useless at saving money I am. I'm just not content unless I'm spending money! Lately my pony collection hasn't been so fulfilling as I seem to have all the ones that have been released locally. With nothing to look for, it makes collecting pretty dull. So I have decided to start a new collection!
I immediately regret this decision.
Here's the first vinyl that I've ever bought! I'm loving Million Dead right now, and these things seem pretty uncommon, so it was the obvious thing to get first ♥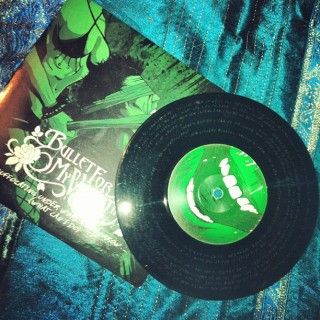 This was my first ever vinyl though. Even though I'm not really a fan of Bullet For My Valentine anymore I'll always keep it as one of my dear friends from school gave it to me for my 15th birthday. It was such a surprising gift! I love all the etching.
I am mentally kicking myself for not buying the England Keep My Bones vinyl set when it came out, but I couldn't have justified buying both the vinyl and CD at the same time! Now it'll be a struggle to find and looks like I'll have to buy it from America (and obviously I won't get the tee with it or anything).
I suppose a good thing about this collection is that I will only buy ones of songs and bands I really love. I definitely want to try to get all the Frank Turner ones, and I'd like to get as many Muse ones as possible. And unlike my G4 pony collection, they'll take a lot of my time searching which should keep me busy and my wallet relatively safe once my starter purchases are over!
Here is my collection so far! Quite a few were random buys I got for cheap shipped with others, but I think I'll just focus on my goal purchases now, once I've made a list! I have a few more on the way too! You can view my collection on
Flickr
.
Will probably venture to HMV later to see if they still sell them...the last time I saw them there was years ago though! I did order two Frank Turner LPs from their website, but that was over a week ago and the stock still hasn't been allocated so I'm not optimistic =/
Now I just have to hope my dad still owns a record player!