As soon as I saw the Holy Lantern series, I knew I wanted this JSK. I wasn't sure about buying it because of other purchases I wanted to make and customs worries, but in the end I decided I needed it! I have been wanting something with a bit of a gothic twist to it for some time.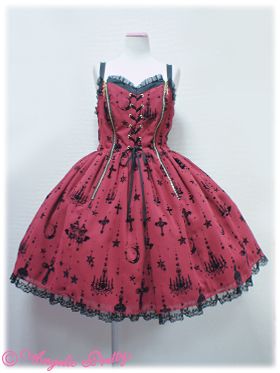 Buying it was a real pain as I got up at 4am on the 5th (12 noon JP time) for it. I refreshed the international page for 3 hours before giving up, as the shop was still down. I fell asleep from 7-8am, checked as soon as I woke up and I'd completely missed it! With some luck I managed to score the JSK on a restock as I'd done a last sad refresh before getting up and caught it at just the right time! I didn't manage to get any accessories though.
Packaging was same as before (AP bag in bubblewrap, came with another bag, care instructions, and sticker). It was shipped on the 10th and arrived today (the 18th). I got hit by customs, but the overall charge including Parcelforce fee was only £20. Not sure what's going on with customs, but definitely can't complain!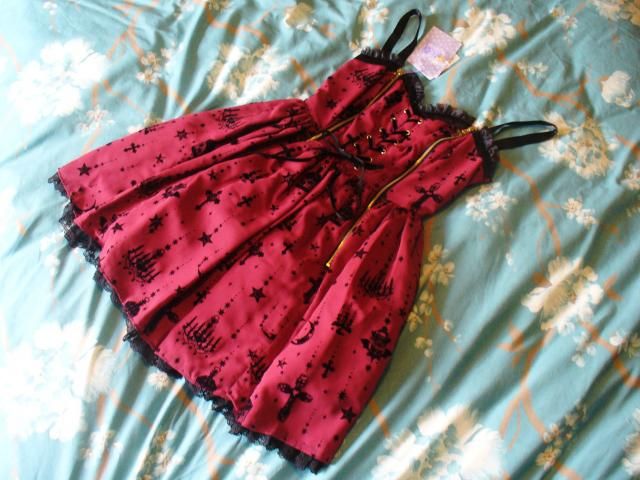 My first impression was a shocked one, as the colour isn't what I was expecting. It seems slightly darker/browner than I expected, although looking back at photos and print sample I don't know why I was expecting that. I guess because other AP reds are a bit brighter? I'll have to compare it to Moon Night Theater and Wonder Story later. Hoping it's not as different as I think as otherwise the headbow I have won't match!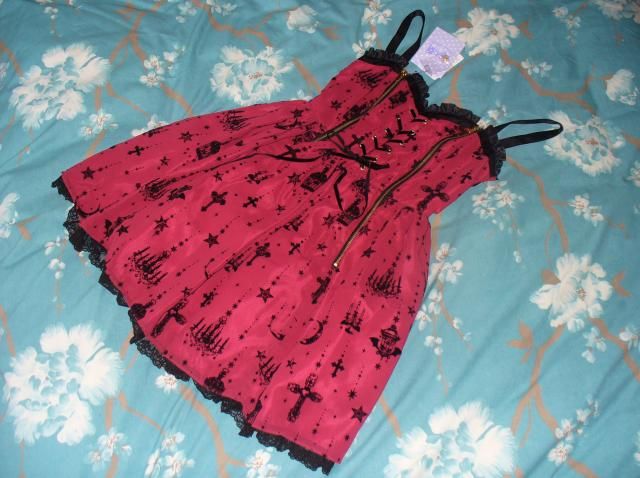 This is what it looks like with flash. It reflects the light a lot. The over-fabric is sheer, with nice shiny lining and a small amount of built-in petti as usual.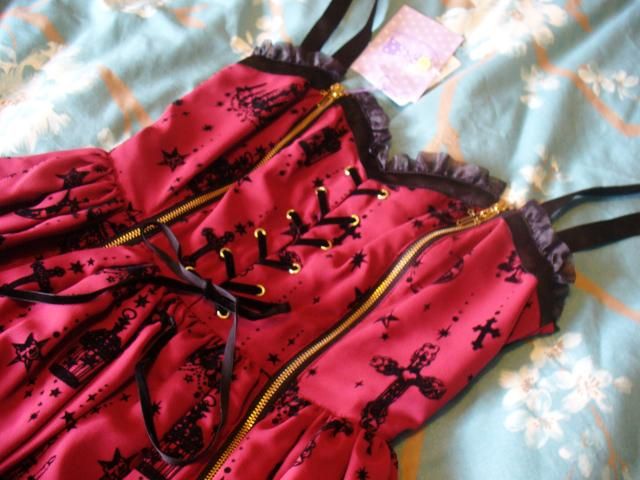 The front lacing, zips, and sweetheart neckline add points of interest on the bodice.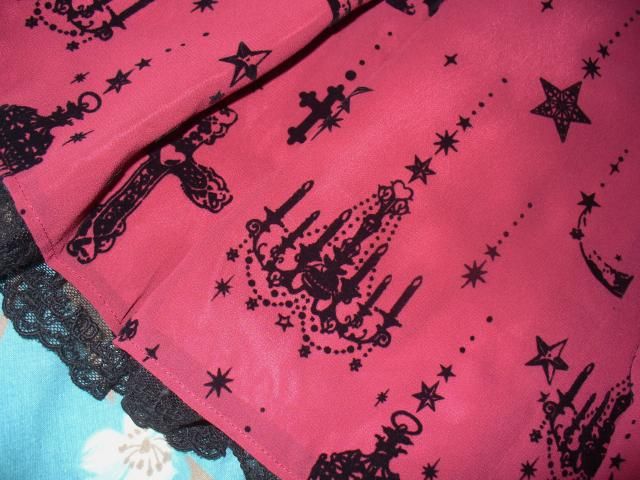 The lace has lanterns on it to match the flocked print, and the hem is actually slightly scalloped.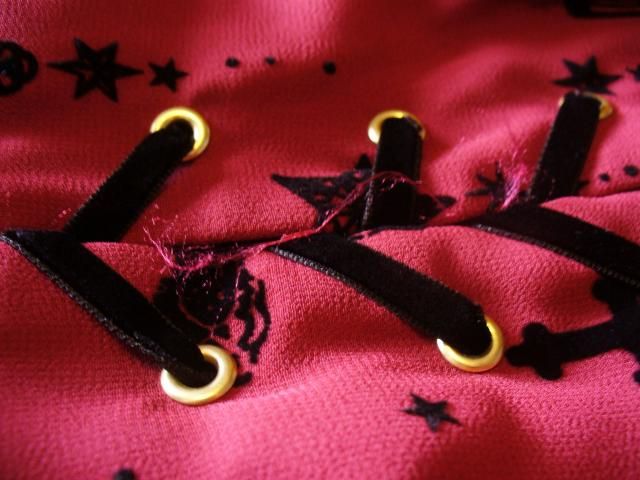 I was a little disappointed to find chiffon fluff on the front! Luckily I could just tuck it in. There were threads coming from the top frill too, which will have to be trimmed.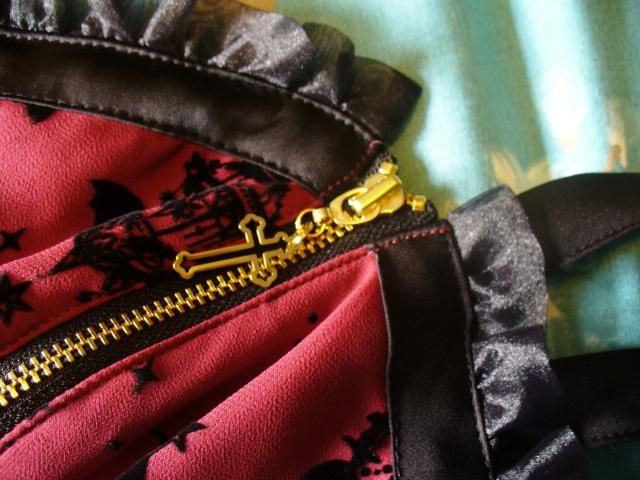 The cross-shaped zipper pulls are just the cutest...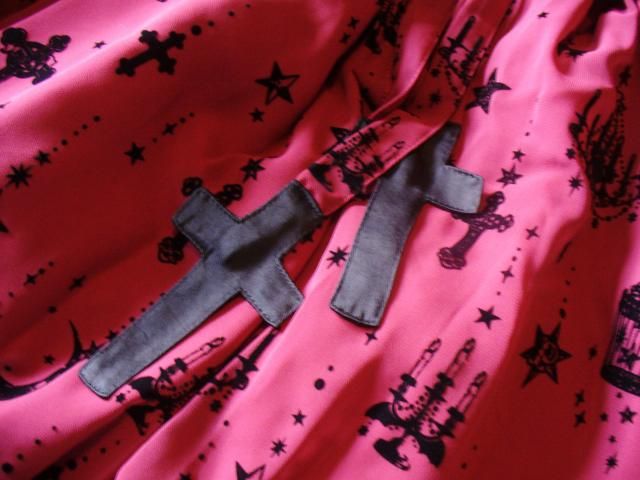 ...and there are crosses on the waist-ribbon too!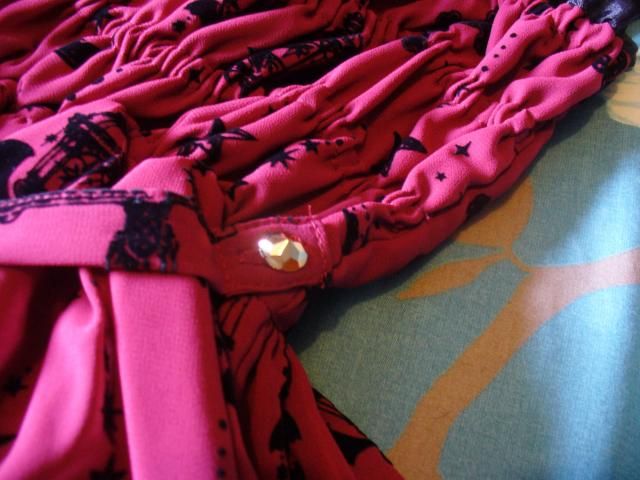 However I'm not fond of these buttons, nor of the fully-shirred back!
Overall, I'm very happy with my purchase. I haven't tried it on yet, but it looks like it's quite short and therefore ought to be a nice length on me. I just have to hope I can find the bow and wrist-cuffs in future! I hope to get my hands on the black JSK one day too!