On this occasion I didn't write a diary when I was there, so this will be quite a bare-bones overview of my time at Download! Plus it was over 3 weeks ago now, so my memory may fail me. I was pretty excited to go though, as I've been wanting to go for 8 years or so but it always clashed with exams (GCSE for 3 years, AS/A-levels for 2, and then uni).
Wednesday
We ended up leaving after 10am as Rob locked his ticket and keys inside the house when we were trying to leave at 9am...ugh! But we go there pretty easily and were all set up by 2pm or so. Rob camped with friends in Red, but I plumped for Gold with Fran, Rosie, and Louis.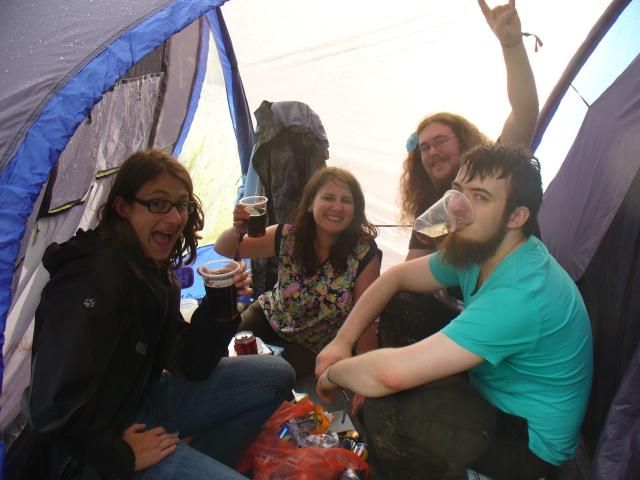 This was a good decision, as it was reasonably quiet and we had lots of space, and the tents were easy to find. Then the drinking, oh dear. First there were umbrellas...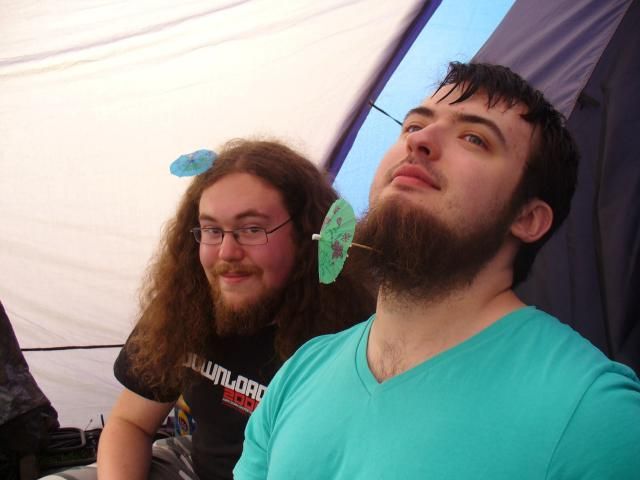 Then a good old game of Flunkyball, that I chose to observe rather than participate in: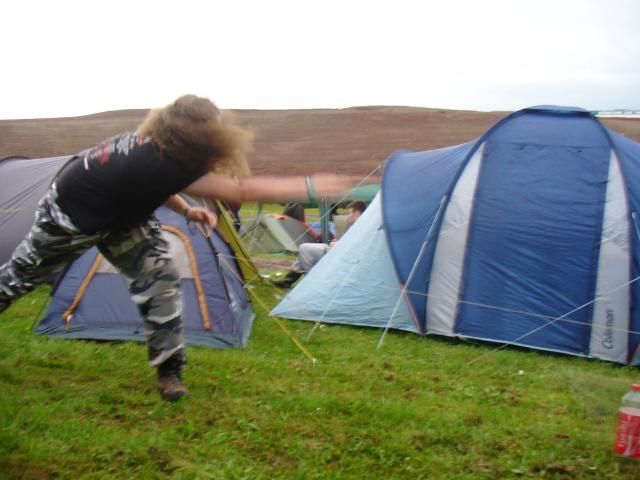 And of course many of the planes that people apparently found annoying (was only a little louder (and less frequent) than the trains I was used to at uni):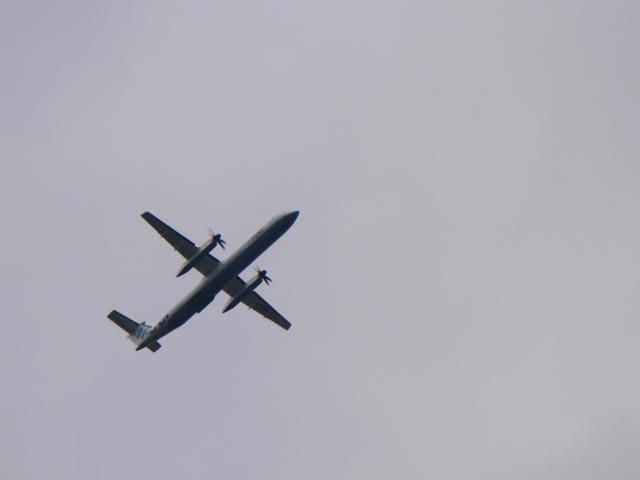 I paced myself well in terms of drinking, but sadly Rob didn't. I came back from the portaloos to find him throwing up in my tent after apparently throwing up in theirs, and then he had me dragging him away from barbed-wire-filled ditches and trying to reason with him until around 2am where he decided to run off. I couldn't find him and went to sleep not knowing if he was even alive. Yeah, I was pretty damn annoyed about it the next day!
Thursday
Thursday wasn't overly eventful. Rob wanted to go into town for breakfast but took us the wrong way, so we walked for 2 hours in the heat and on empty stomachs for no goddamn reason. After an annoyed lie down I drank a bit with my tent neighbours who were working on can swords and making plans for a can throne. The weather was really odd on that day, alternating between scorching sunshine and rain. There was a huge thunderstorm at one point where the sky went almost black and sheets of rain came out of nowhere! In the evening I met up with Bexy & Amy (who were camped in White) for a bit of a dance, and then we saw
Andrew O'Neill
(a comedian).
Friday
Friday began with a wildcard -
Dir En Grey
. We thought we'd see them for a laugh since they were the only Japanese act on the bill. It also started raining really heavily, and was raining on and off all day.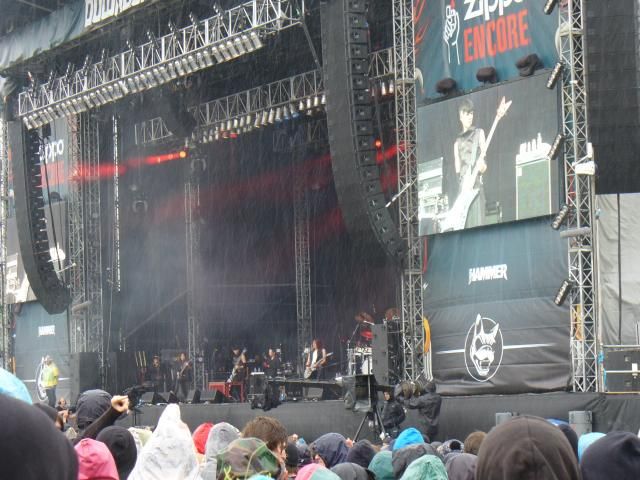 We wandered off for a bit and caught some of
Patent Pending
when having a sit down. Unfortunately we had to endure a bit of
Asking Alexandria
on our way past Main Stage as well. Then was
Papa Roach
, who were good but didn't play the best song. The singer also dived into mud for some reason.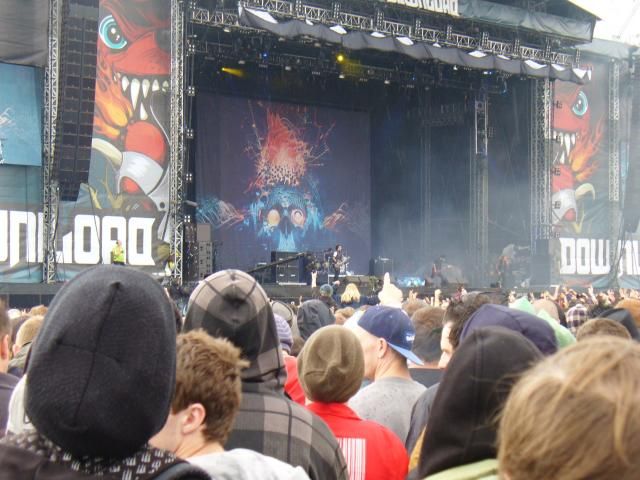 Then we caught a bit of
In This Moment
who put on a great show, before highlight of the day which was
Korn
.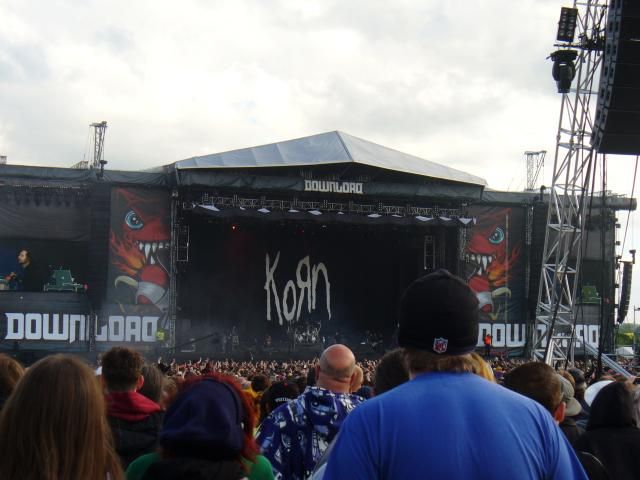 We took some selfies.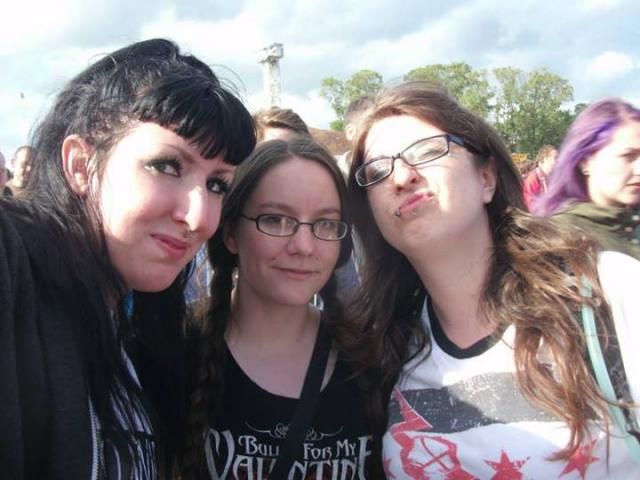 Bullet For My Valentine
were a bit dull...
...but we wanted to keep our good spot for
Slipknot
! It rained heavily again at this point, but they were pretty good so I can't really grumble. I couldn't see at all though! I was lucky to get any photos at all.
Saturday
On Saturday we mostly just hung out at the tent. The weather was great so we sunbathed and derped around drinking until almost 6pm.
We finally went to the arena to catch the first few songs of
Jimmy Eat World
's set. We stayed more than we were supposed to as I was a little over-enthusiastic in my drunken fangirling! I feel embarrassed now as everyone around us was just standing there whereas I was singing all the words and jumping and waving my appendages around. Especially during
Get It Faster
as it's one of my favourites and I was surprised it was still in the setlist.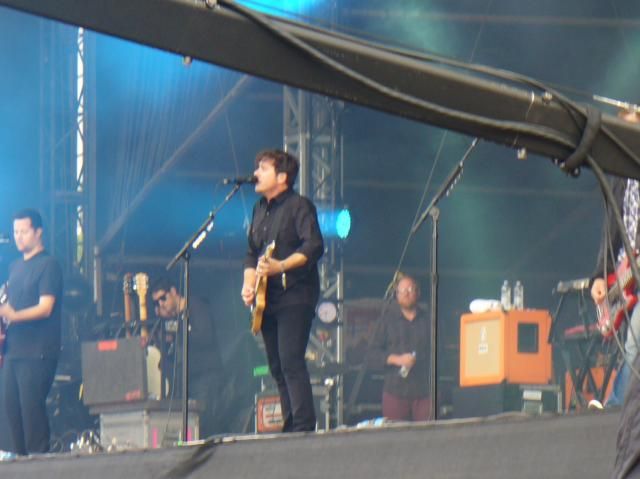 More derping!
We missed most of the first
Queens of the Stone Age
song which is annoying as it was
Feel Good Hit of the Summer
, which we'd been singing all weekend.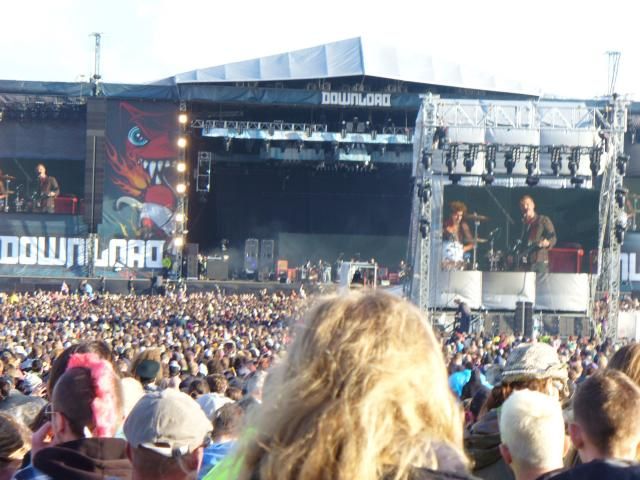 Afterwards the girls headed back to camp so I caught the end of
Enter Shikari
by myself. I tried to see
Iron Maiden
but the sound quality was terrible so I only stayed until I heard a song I knew, which was thankfully the second one they played.
Saw
The Hives
instead, and it was the best decision as they were so much fun to dance along to, despite poor view and getting elbowed in the face several times (#shortpeopleproblems). Some crazy guy climbed up one of the poles inside the tent and jumped off!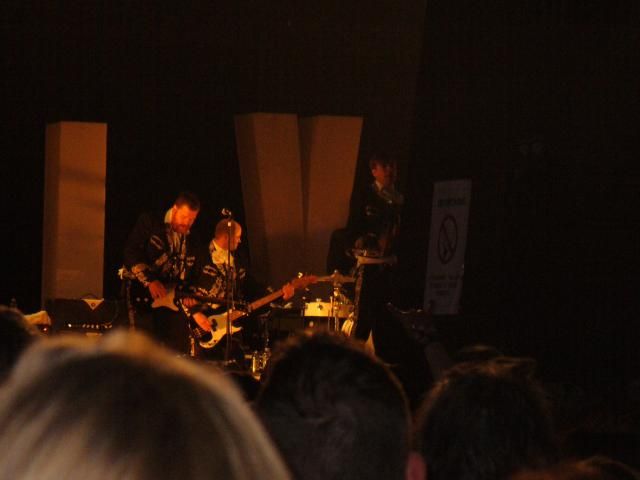 When I got back to their tent I was already sobering up and getting a hangover so I didn't hang around and went to bed istead!
Sunday
Since Rob's phone was running out, I stayed with him on the last day. We packed up out tents and took them back to the car in the morning and then went to the nearby village for proper breakfast and cup of tea. We were both really tired so we sat at Main Stage most of the day, catching
Five Finger Death Punch
who weren't my cup of tea,
Parkway Drive
who were a little better,
Stone Sour
, and
Gaslight Anthem.
They played their best song first but the singer's voice sounded butts until the second song Dx
We had planned to stay for
30 Seconds To Mars
but as soon as they started we gurned at each other and went to see
A Day To Remember
instead, who it turns out I like and I knew a bunch of their songs from music channels.
Limp Bizkit
were next and I had a great time! I almost peed myself laughing at Fred Durst's gigantic black beard. Rob was a bit annoyed as he wanted to see Rammstein but I wanted to stay until they played
Break Stuff
which was their last song, I think.
This photo was taken before the mass-exodus of people leaving to see Rammstein as soon as they played their first chord.
We could kinda hear
Rammstein
at the same time though, and we headed straight there afterwards. Hope I get to see them again as they were good live, although I don't really approve of the giant fake dicks and pretending to jerk off and all that sick shit. They pyros were cool though.
Monday
After a very stressful journey (it took ages to leave the carpark although it could have been a lot worse, and Rob was barely awake while driving and it took me ages of nagging to get him to pull over for a nap), we eventually got back to Rob's at 6am. I was so tired that I'd been hallucinating pretty much the whole way back, and I have stayed awake for so long before. It was almost a full 24 hours! So naturally after a cuppa and some toast we slept all day.
Even though it was tiring, I'm looking forward to the next festival now! Reading is only a month away. Probably going to volunteer at Glasto next year as dad did this year, and if friends go to Download again I'm up for it again! I preferred it to Reading in terms of layout, it's just that Reading tends to have more bands I want to see. That said, Reading line-up is going downhill fast wth all the hipster shit they're bring in...but we'll see!