This year I actually knew about Angelic Pretty Summer packs, so I decided to get one as a gift to myself for graduating. I used
Yunni Sweet Like Candy SS
again as it was on her
Facebook page
that I saw the announcement, and I'm too lazy to find a different service. Plus, I know where I stand with this service now after having used it twice previously.
The announcement reached her page on the 20th June, and I placed a request there and then. I received confirmation the same day. I must have gotten in quick as she picked up 2 packs and one was mine! I got my pack confirmed on the 22nd, although full shipping quotes weren't given to me until 3rd July. Tracking given on the 8th.
Apparently there were only 15 or so packs in store, and the packs seem to have been Shinjuku only. The pack cost ¥10,500, I ended up paying ¥13,261 for the pack and fees, and the EMS shipping was ¥4,600. I managed to avoid customs, so the total cost was around £120.
I actually had no idea what would be in this until it came as no one seemed to know anything. I just knew that usually they are special sets of prints with 5 items total, and I was told that the dress was heavy and causing expensive shipping. This disappointed me as I was hoping for a miniskirt, and it meant that it couldn't be anything Dream Sky as they are light as air. Not knowing made me nervous, and had huge worries that I'd have to sell it all straight off the bat. I should point out that all this information is what my SS said... some of which was a lie. Special sets are announced, and apparently ordinary lucky packs happen all the time. I find it hard to believe that she honestly didn't know that, but ho hum.
It arrived today, boxed well.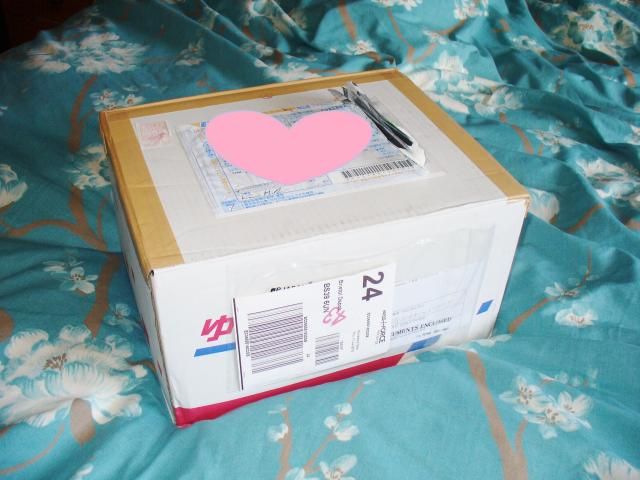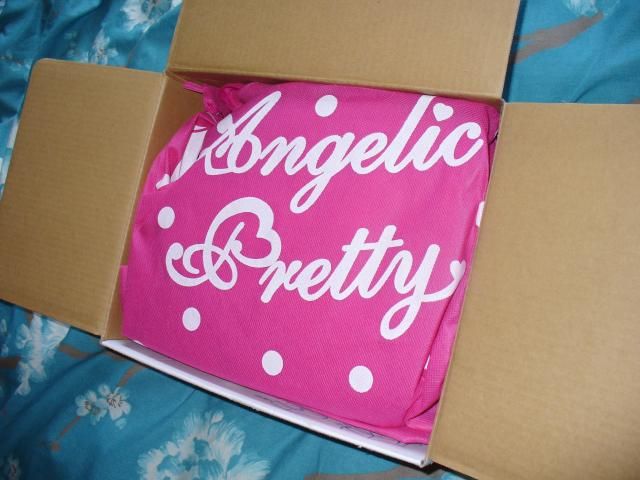 I was so surprised (and a little horrified!) when I lifted off the tote that I forgot to take a photo. It wasn't a special set. It wasn't even a happy pack with matching items. I didn't know that Angelic Pretty even
did
true lucky packs anymore, but that's what it was. That means that I got all the crap nobody wanted to buy from the store!
These were my items. My first impression was 'itaaaaaa'!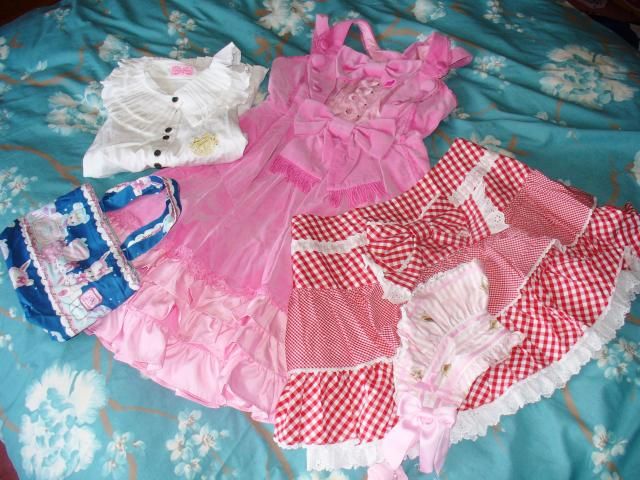 Thankfully on closer inspection, I love the JSK.
It's quite a bright pink, with regular straps and a halter. While I like the style, velvet is very heavy and impractical so I won't get many chances to wear this.
Lovely button detailing.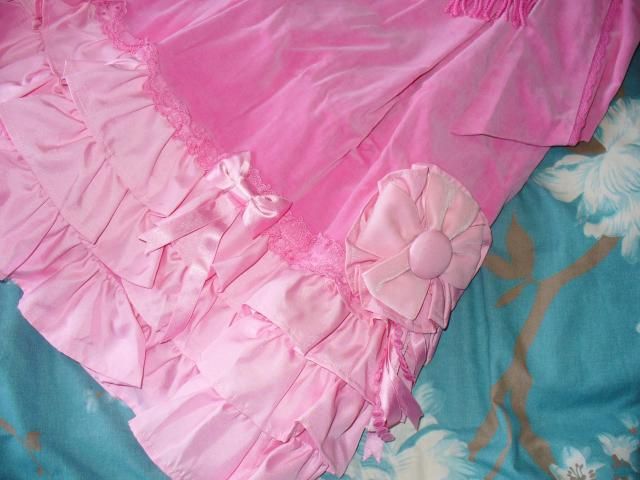 Asymmetrically placed bow and corsage, which are joined to a bow and tassle on the back with ribbon. The necktie also has a tassled bow on it, and the waist ties are tassled.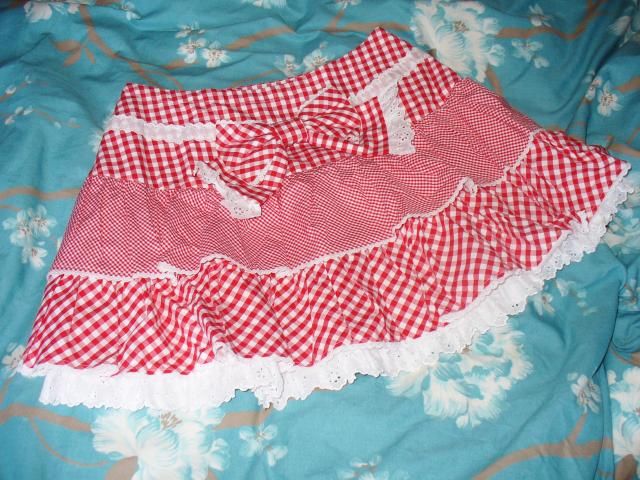 While I wanted a short skirt, this wasn't what I was hoping for.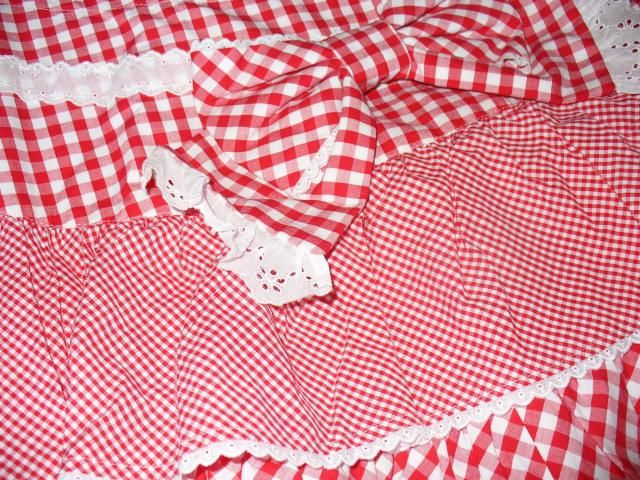 Red gingham reminds me of primary school, and all the broderie anglaise isn't helping matters! I think it'll be wearable though, especially once I've moved the bow pin to the side. I have some AP broderie anglaise hairties which will match this nicely, although I may look a little too childish.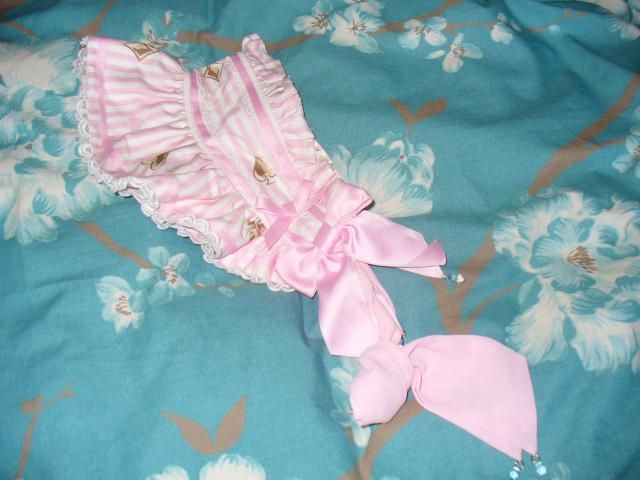 Bonnets look stupid on me because I don't have a fringe/bangs. That said, bonnets look stupid on most people. I'd have been okay with it were it black, but this won't really match anything. I wasn't sure what print it was but had a feeling it had bottles of some kind on it, and after a google it is in fact Glass Bottle of Tears. While it isn't a print I like much, it does have lovely details and fabrics.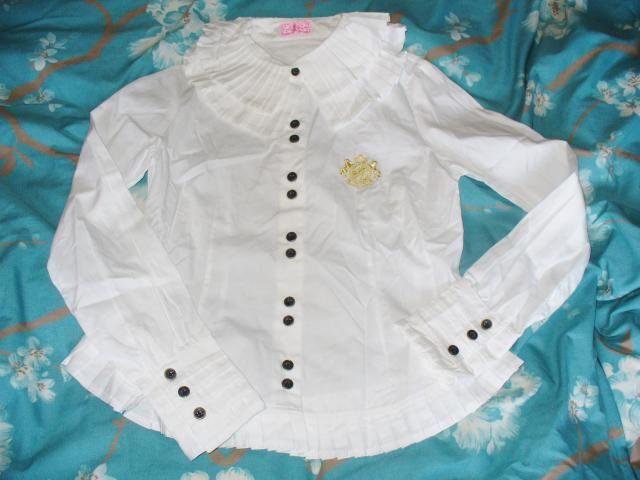 I don't like this blouse at all. The pleats are a bit messed up already and I hate ironing! I literally never iron anything. It's not sweet enough either, and the black buttons look a bit out of place. But I guess that doesn't matter anyway as it's unshirred and I doubt it'll fit nicely over my shoulders/bust.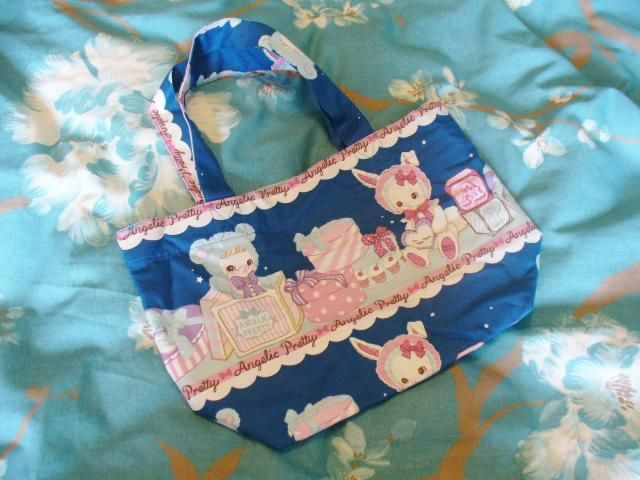 Pointless tiny tote bag. I do love Fancy Box in this colourway though, so I'll try to find a use for it!
While very disappointed that it wasn't a special set or print (there have been so many cute prints lately!), I feel that my money wasn't wasted. That said, I probably wouldn't have risked the purchase had I known. The tags were all removed, but original cost of the JSK was probably around what I paid for the whole set including shipping so who knows what the combined value could have been. I'll probably keep hold of everything except maybe the blouse (if it doesn't fit) and the bonnet (if I can find no use for it).